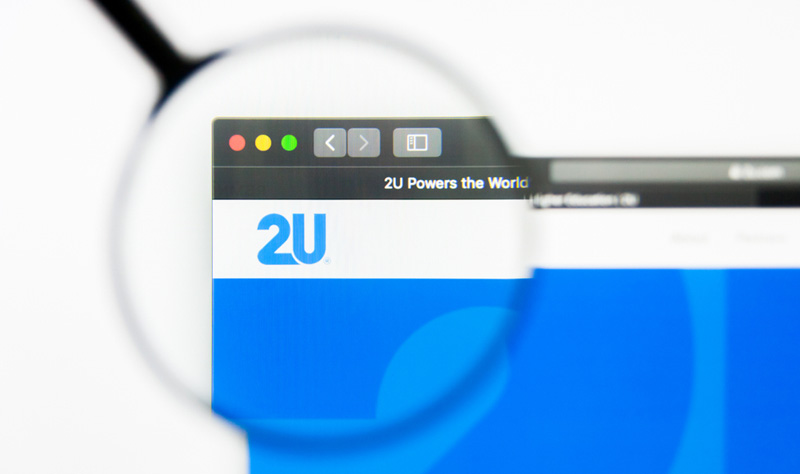 Mikel Amigot | IBL News
While investors wonder if 2U (NASDAQ: TWOU), the digital higher ed firm, is still a valuable opportunity, especially after it faces an array of class action lawsuits, Academia dissects the new 2U powered $24K online undergraduate 3-year degree program in data science and business analytics, developed by the University of London.
The program will be executed in partnership and under a 10-year contractual revenue share model with the University of London and one of its member institutions, the London School of Economics and Political Science (LSE).
The low price is feasible because almost two-thirds of curriculum is based on asynchronous content and boards.
It follows a facilitator model of instruction where expensive faculty and subject matter expert professors create the course content for multiple runs of the course, and they later oversee less expensive instructors who focus on mentoring users and providing student support.
For example, the live online synchronous classes on Zoom – for 90 minutes biweekly – are conducted by non-faculty, adjunct educators, who lead roughly 40 students each session.
With this approach, scaling the program to host a growing number of enrolled students would require hiring more facilitators, not professors.
Besides, 2U might use its GetSmarter subsidiary – located in South Africa – for more affordable labor on tutoring, instructional design, project and media management.
"This online undergraduate degree will work best for only a specific type of learner. How many 18-year-olds are highly organized and self-motivated enough to navigate an education at a distance? The $24K price tag of this degree demonstrates one model of undergraduate instruction, but I'm not sure that it is a model for undergraduate education," writes Joshua Kim, director of digital learning initiatives at the Dartmouth Center for the Advancement of Learning.
In general, scholars consider this innovative, alternative program as an experiment, not a trend.
It also could be just a publicity stunt from 2U.
For now, it seems that the world's top universities prefer to keep their status, exclusivity and tradition on undergraduate programs, rather than lowering the price and expanding access.
• IBL News, August 6: 2U Announces Its First Online Undergraduate Program