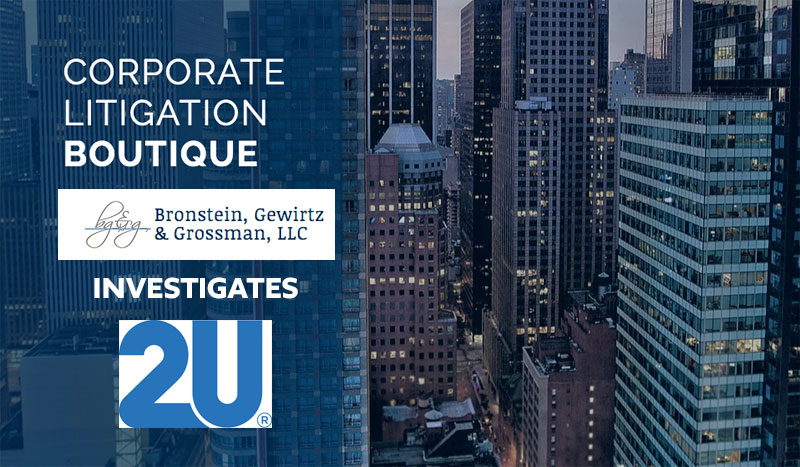 IBL News | New York
Bronstein, Gewirtz & Grossman, known for their aggressive class case actions, announced on August 5 an investigation of 2U, concerning whether staffers have violated federal securities laws.
This New York-based corporate litigation boutique is investigating potential claims on behalf of purchasers of 2U.
Bronstein, Gewirtz & Grossman described the case stating:
On July 30, 2019, after-market hours, 2U announced a large loss for the second quarter of 2019. The Company's Chief Executive Officer, Christopher "Chip" Paucek said that the Company was working toward a "defined path to profitability by tempering short-term growth projections and leveraging our scale to drive greater operational efficiencies across the business." After this announcement, analysts demoted 2U and some mentioned that its model was "breaking." Following this news, 2U stock dropped $23.70 per share or almost 65% to close at $12.80.
The firm encouraged investors of 2U shares or investors aware of facts related to the investigation to contact them.
The Motley Fool also said that the CEO's elaboration was "concerning". However, the stock drop "might well be a terrible overreaction assuming 2U's longer-term story remains intact. But it's hard to blame some investors for fleeing, given the uncertainty created by this massive strategic shift."
2U ANNOUNCES ITS FIRST ONLINE UNDERGRADUATE PROGRAM
Attempting to convince investors of its good health despite losing two-thirds of its value last week, 2U (Nasdaq: TWOU) announced yesterday that it will deliver its first online undergraduate program, a 36-month program for Bachelor of Science in Data Science and Business Analytics.
It will be developed in partnership and under a 10-year contract, revenue share model with the University of London and one of its member institutions, the London School of Economics and Political Science (LSE).
LSE faculty will design the degree program and deliver mostly through asynchronous and via live classes, according to 2U. The University of London will grant the degree. It will be priced around $21,000 for United Kingdom-based students and $25,000 for international students.