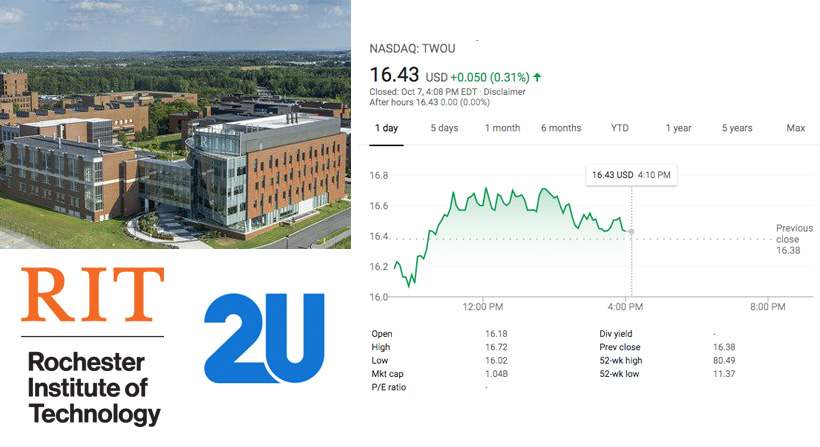 IBL News | New York
Less than thirty days from the third quarter of earnings calls, 2U (NASDAQ: TWOU) announced yesterday a new partnership with Rochester Institute of Technology (RIT) to deliver an online Master of Architecture degree. The program is 2U's first architecture offering and represents a new vertical for the company.
With the firm's stock price currently trading around $16.43, 2U has been unable to gain investors' trust and recover most of the two-thirds of the value that evaporated after the earnings call on July 30th.  The Lanham, Maryland–based company now has a market capitalization of $1.04 billion – it reached $4.7 billion a year ago, with the stock traded at $80.49.
The deal reported on Monday with RIT didn't impact 2U's stock price. Top stories and financial alerts continued to bounce around investors' class-action lawsuits alleging misleading statements made between February and July.
RIT Architecture Online is scheduled to be launched in September 2020. Rochester Institute of Technology faculty will deliver the curriculum through a combination of asynchronous and live classes on 2U's online platform.
"We are very delighted to begin this significant and important collaboration with 2U," said Dennis A. Andrejko, Head of RIT's Department of Architecture. "Partnering with 2U can certainly allow us to add momentum in advancing our sustainability and resiliency agenda, while inextricably linking this to the opportunities, power, and value of design inquiry and architecture."
On behalf of 2U, Andrew Hermalyn, President of Global Partnerships, indicated: "Working together, we will take the best of the RIT architecture program online and into the digital era, and prepare the next generation of leaders in the field to address the most pressing sustainability and design challenges."
Update: 2U Inc. had a rough trading day on Tuesday, October 8th, as the stock price dropped 5.26%, to close at $15,57. As a result of the decline, 2U Inc. now has a market cap of $985.81 million.