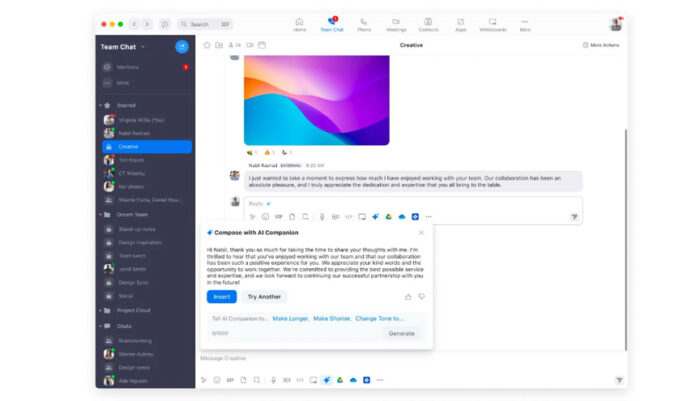 IBL News | New York
Video conferencing leader Zoom this month announced an update on its AI-powered assistant, formerly known as Zoom IQ and now rebranded as AI Companion.
Powered by Zoom's in-house generative AI along with AI models from Meta's Llama 2, OpenAI, and Anthropic, the tool now has a wider reach. It expands to more corners of the Zoom ecosystem, including Zoom Whiteboard, Zoom Team Chat, and Zoom Mail. This tool is part of the paid Zoom account, with no additional cost.
For example, users will be able to catch up on key points during a meeting along with querying for the status of projects, pulling on transcribed meetings, chats, whiteboards, emails, documents, and even third-party apps.
After the meeting, AI Companion smart recordings can automatically divide cloud recordings into chapters for review, highlight important information, and create the next steps to take action.
Also starting next year, the AI Companion will give real-time feedback on people's presence in meetings plus coaching on their conversational and presentation skills.
Earlier, within a few weeks, in Zoom Team Chat, Zoom's messaging app, users will soon gain the option to summarize chat threads through the AI Companion.
In Zoom's second rebranding, Zoom's sales assistant tool Zoom IQ for Sales became Zoom's Revenue Accelerator.
This virtual coach can assess salespeople's performance in pitching products using various sales methodologies, similar to other AI-powered sales training platforms on the market.
Repetitive tasks like these can take up 62% of the workday, according to Asana.