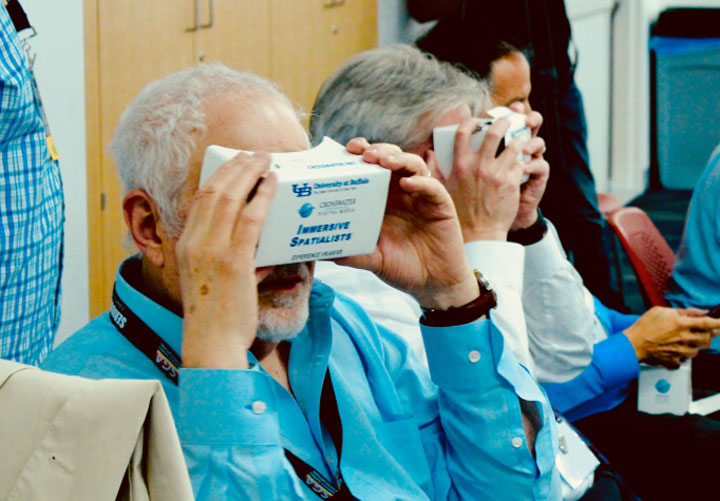 Virtual immersive pedagogy is a hot area in higher-education.
The University at Buffalo, part of the SUNY system, has announced that it will increase its research on how to incorporate VR and AR into forthcoming MOOCS.
The emerging role of virtual and augmented reality tools in the teaching-learning and research space is a key innovation area within the SUNY (State University of New York) system.
New research abstracts along with discoveries virtual immersive pedagogy will be presented at a SUNY's FACT Symposium scheduled on November 9, 2018, in Albany, NY.
Last July, the University at Buffalo (UB) demonstrated a robot safety course that integrated VR. That course was built on the new UB's Open edX platform.
"Virtual reality is rapidly advancing, enabling us to develop computer-generated learning environments that closely mimic the real world. In turn, students can interact with these environments in real-time, offering a richer educational experience," said Timothy Leyh, executive director The Center for Industrial Effectiveness at UB.
"This successful experiment could be a blueprint for colleges and universities looking to implement VR and other innovations into their online course offerings," said Lisa Stephens, PhD, assistant dean of digital education in UB's School of Engineering and Applied Sciences.
UB's partners in the project included the School of Engineering and Applied Sciences, the College of Arts and Sciences, the Center for Educational Innovation, and UB Information Technology.
Other universities, such as Harvard, have been working to incorporate virtual reality into MOOCs. However, this approach to online learning is still in its infancy, which led UB and its partners to develop their own strategy for applying the technology.
"The UB team is working to deliver virtual reality on a massive scale that includes built-in feedback for students and faculty," said Lisa Stephens, PhD, assistant dean of digital education in UB's School of Engineering and Applied Sciences.
Multiple units at UB are collaborating, in addition to several partners, to launch an array of continuing education classes, and this VR test became part of that initiative.  "Fortunately, we were already working with IBL Education to help with the rollout, and when Crosswater Digital Media and Docola agreed to help with the pilot, we had the perfect expertise to realize this vision," said Jay Stockslader, director of continuing education for UB's College of Arts and Sciences.
"The demonstration with collaborative robots captured in high-quality, 360-degree video was a great success. Imagine universities, companies and other organizations having the ability to train people how to work with robots in a realistic yet safe environment. People will already have vast experience before walking on to the job site," adds Stephens.
UB will launch a full collaborative robot safety course, without VR, on Sept. 4 on the Coursera learning platform.