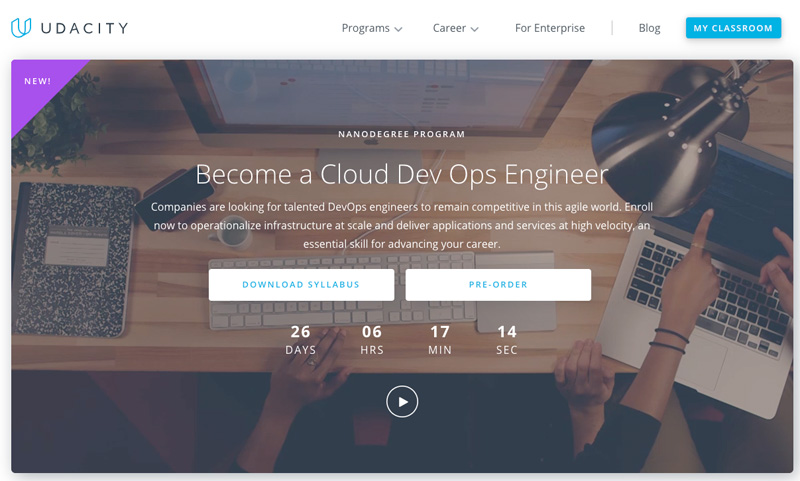 John G. Paul | IBL News
Udacity.com introduced this week its School of Cloud Computing, which will be focused on two training programs offering learners to become cloud developers and DevOps engineers on AWS (Amazon Web Services). The two courses (4-month, 10 hours/week) will start on June 11 and cost $1,436 per course.
Developers in this field are in high demand. There are over 50,000 jobs available in the US with a median salary of $146K, according to Forbes. Cloud tech services, which allow companies to innovate at a faster pace and reduce costs, are projected to grow to $206 billion in 2019, an increase of 17.3%, according to Gartner.
"The cloud brings unlimited access to computing power, security, storage, networking, messaging, and management services to large organizations and everyday builders. When you no longer need to maintain data centers, your engineers can focus on that which differentiates your business from the competition. The cloud provides high availability, on-demand scalability and elasticity, and you pay only for what you use," explained Kesha Williams, Software Engineering Manager, at Chick-fil-A and Udacity Cloud Computing Instructor.
Udacity.com, a MOOC-platform that competes with Coursera, edX, and FutureLearn, highlights the employability of its programs (called Nanodegrees), offering them at a significantly higher price than rivals, at $1,436 per course. This platform prefers to produce their own online courses and feature industry experts as instructors rather than rely on college professors.
"We are taking a huge step towards becoming the University of Silicon Valley (…) Going forward, Udacity will now provide one-on-one technical mentorship, along with expert feedback to student projects and individual career coaching to help students advance their careers (…) Our team of expert reviewers is available to give individual constructive feedback to every student project, with a median turnaround time of just 3.9 hours," recently announced Sebastian Thrun, Founder at Udacity.
"With more than 75,000 Nanodegree program graduates and over 200 industry partners, the Nanodegree program is well on its way to becoming a de-facto standard for hiring and corporate training in the tech industry," he claimed.
• Udacity Blog: Introducing Udacity's School of Cloud Computing
• Syllabus of Become a Cloud Developer (PDF)
• Syllabus of Become a Cloud Dev Ops Engineer (PDF)