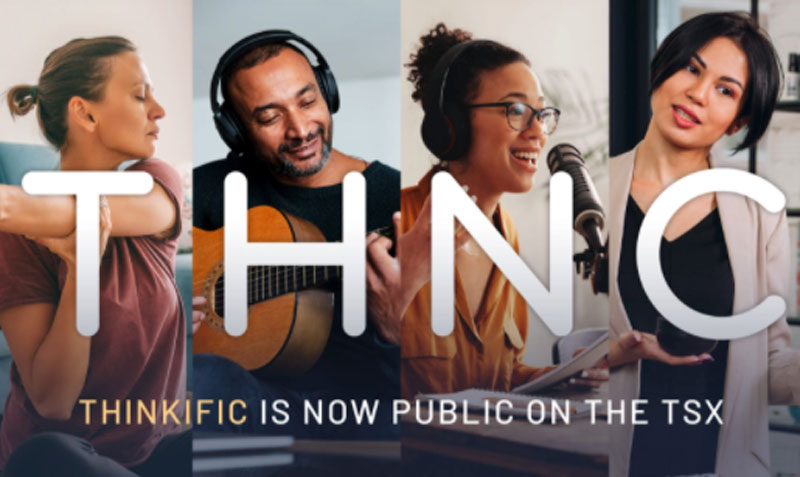 IBL News | New York
Thinkific Labs Inc. (TSX: THNC) went public yesterday on the Toronto Stock Exchange (TSX). The Vancouver, Canada-based learning company — which provides businesses a platform to build, market, and sell online courses — raised over $129 million. It sold 12,310,000 subordinate voting shares at a price of $13 per share.
Founded in 2012 by CEO Greg Smith, COO Miranda Lievers, CTO Matt Payne, and Chief Strategy Officer Matt Smith, this software-as-a-service platform claims to host 50,000 creators who taught 21 million students earning $275 million in 2020. "As entrepreneurs ourselves, we saw the opportunity to help people build and grow sustainable businesses by educating others," explained in a blog post, Greg Smith.
According to its preliminary prospectus, Thinkific.com recorded $21.07 million in revenue and a net loss of $1.29 million. In 2019 total revenue was $9.8 million and in 2018 reached $6 million.
BMO Capital Markets and CIBC Capital Markets acted as joint book-runners and co-lead underwriters for the IPO. The underwriters have been granted an over-allotment option to purchase up to an additional 1,846,500 subordinate voting shares at a price of $13 per share. This option, which can be exercised within the next 30 days, could generate additional gross proceeds of up to $24 million and raise Thinkific's net proceeds to an estimated $174.5 million.
Thinkific is backed by Rhino Ventures, which, through Rhino Co-Invest 2 Limited Partners, planned to buy approximately $25 million subordinate voting shares through the offering, according to Thinkific's final prospectus. After the IPO, Rhino Group, along with Greg and Matt Smith own a total of 57 million multiple voting shares, accounting for 79 percent of Thinkific's outstanding shares, and 97 percent voting power.
Last fall, Thinkific raised $27 million in financing. Its main competitor is New York-based Teachable.com.
"Going public will not change our mission," said the company's CEO. "We truly believe that education is the most powerful force for positive change in the world, and commerce is the rocket fuel that powers education to far greater reach and impact."