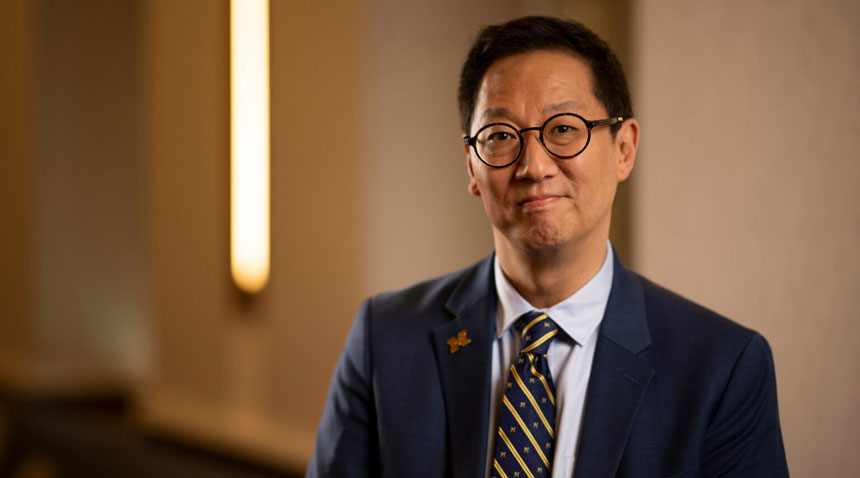 IBL News | New York
The University of Michigan (U-M) announced this week the appointment of its new President, Santa J. Ono, 59, a biomedical researcher who previously served as President of the University of Cincinnati and Senior Vice Provost and Deputy to the Provost at Emory University.
Santa J. Ono will be the institution's 15th president and first of Asian descent (he is of Japanese heritage.) Born in Vancouver, Canada, he earned a bachelor's degree in biological science at the University of Chicago and a doctorate in experimental medicine from McGill University in Montreal.
He will officially step into the U-M role on October 13, taking over from interim President Mary Sue Coleman, who has been filling the role since January, when former president Dr. Mark Schlissel was fired after being accused of having an affair with a subordinate.
His nomination was voted unanimously by the Board of Regents during a special meeting on July 13 in Ann Arbor. (Under the Michigan Constitution, the board is responsible for electing the university president.)
His appointment followed a comprehensive search that began in February. A presidential search committee that included students, faculty, staff, alumni, and regents worked with the executive search firm Isaacson to identify and review candidates. An online survey collected additional thoughts from more than 1,000 respondents.
Dr. Ono is the leader of the University Climate Change Coalition, a network that connects 23 of the world's leading research universities and university systems committed to accelerating climate action. He also serves as chair of the U15 Group of Canadian Research Universities, a collective of research-intensive institutions similar to the Association of American Universities.
"The University of Michigan is recognized worldwide as being at the pinnacle of public higher education," Ono said. "It is a singular honor to be chosen to lead such an extraordinary institution. I look forward to embracing the university community and supporting their education, scholarship, innovation, and service."
He has taught at Johns Hopkins University, Harvard University, and University College London. While at the University of Cincinnati, he also served as a professor of pediatrics at Cincinnati Children's Hospital Medical Center.
Ono will receive a base salary of $975,000, subject to annual increases at the Board of Regents' discretion, and $350,000 in deferred compensation starting after the first year. He also will receive regular university benefits and supplemental contributions to a retirement plan, housing in the President's House, an expense allowance, and the use of an automobile and a driver, all in accordance with university policies.
The university's main campus in Ann Arbor includes 19 schools and colleges. There also are regional campuses in Dearborn and Flint and a nationally ranked health system, Michigan Medicine.
As one of the nation's top public universities, U-M has been a leader in research, learning, and teaching for more than 200 years.
Ono is married to Wendy Yip, who trained as an immunologist at McGill and as a lawyer at Boston University. They have two daughters, Juliana and Sarah.