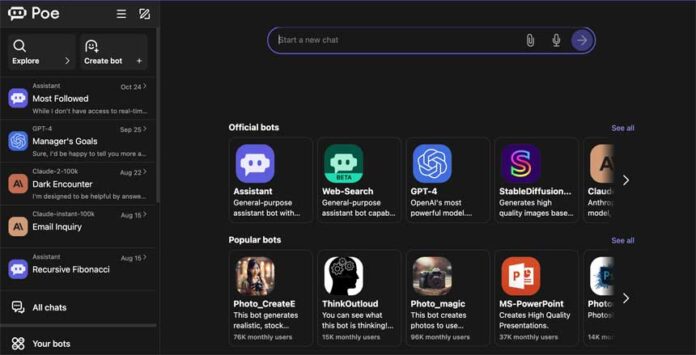 IBL News | New York
Poe.com launched this week a revenue generation program for developers who create prompt and server bots on this chatbot platform. The service is currently available to US residents.
Developers can write code and integrate it with Poe's API to benefit from Poe's monetization structure.
When a bot causes a user to subscribe to Poe, the company shares a cut of the revenue they pay.
In the near future, the user will be able to set a per-message fee.
"With this latest launch, we believe we are fulfilling our goals for Poe to greatly reduce the amount of work needed for any AI developer to reach a large audience of users," said the company.
Since last February, Poe has delivered the ability to build on top of other bots without needing to pay for access. It has also offered a variety of features, such as threading, file uploading, and image generation.

"With this, we hope Poe unlocks a thriving economy with a wide diversity of AI products. We expect all kinds of bots to do well, across areas like tutoring, knowledge, therapy, entertainment, assistants, analysis, storytelling, roleplay, and image, video, music, and other media generation. Since this is the beginning of a new market, there are lots of opportunities to provide a valuable service for the world and make money at the same time."
Poe will host a hackathon at AGI house on 11/4 for people in the San Francisco Bay Area "to experiment with creating bots that will be monetized."