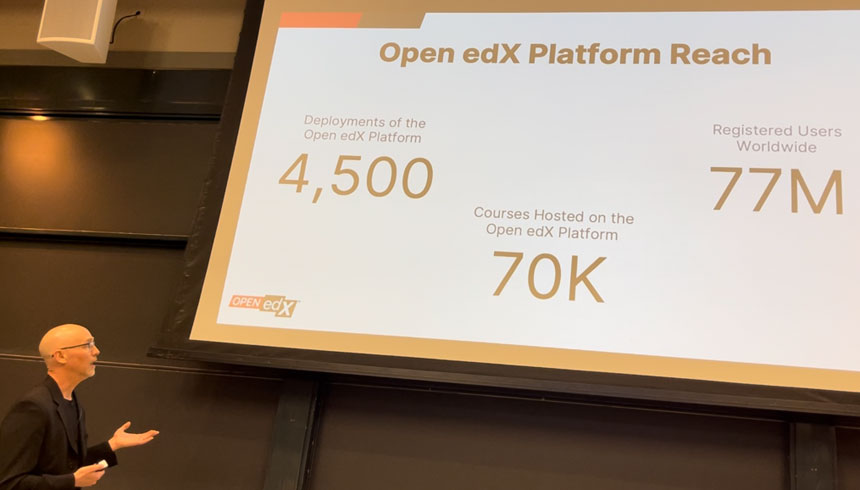 IBL News | Cambridge, Massachusetts
The Open edX Platform has reached 4,500 deployments, hosts 70,000 courses, and has 77 million registered users worldwide, including 45 million at 2U's edx.org.
The organization behind Open edX, now renamed Axim Collaborative, presented the state of this international community during its annual conference at MIT's Stata Center in Cambridge, Massachusetts last week.
Ed Zarecor, Vice President of Engineering at Axim Collaborative (pictured above), explained that there are currently 24 contributing organizations and 333 individuals providing code.
Jenna Makowski, Senior Product Manager at Axim Collaborative (pictured below), presented current and near-future priorities, including the Open edX platform roadmap.
She highlighted the Learner Analytics (OARS) project, which aligns with open data standards and provides near real-time statistics.
The goal of Axim Collaborative is to leverage open-source technology to democratize education and drive advancements in learning.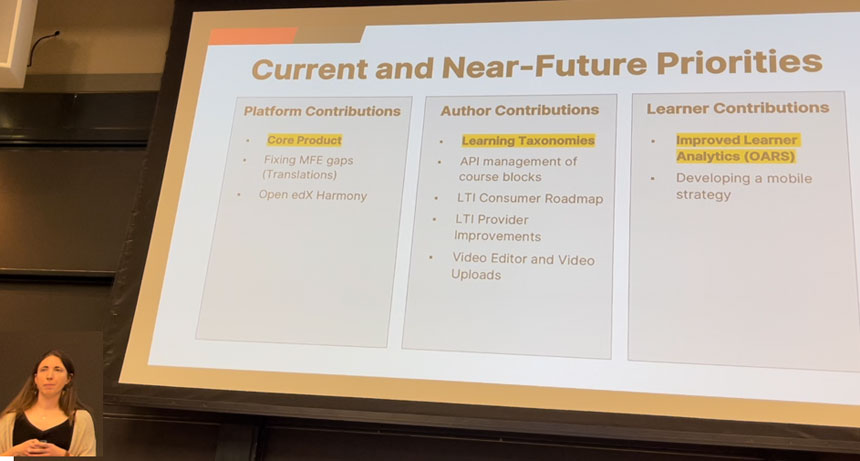 During the opening talk at the 2023 Open edX Conference, Anant Agarwal, Chief Platform Officer at 2U, Founder of edX, and Professor, presented his ideas on "Reimagining the '3 Rs' for Higher Ed in 2023."
Agarwal highlighted the top priorities that should be emphasized to help adult learners thrive in today's world.
"We should offer programs that teach today's most in-demand tech skills, such as coding and data science, or develop human skills for the digital age, like resilience, storytelling and negotiation. Use a mix of live instruction, rich multimedia, and asynchronous learning. And give them options like part-time/full-time and online/in-person—or both."
He also said "that the world of education has completely changed by AI."
.@agarwaledu reimagines the "Three R's" of education to support today's adult learner and highlights solutions from around the world that lead the way in creating greater access to affordable, high quality online education. https://t.co/4ntx8lNfHh

— 2U (@2Uinc) March 30, 2023
🙌 It's Day 3 of the @OpenEdX conference and we are ready for another day of inspiration and learning.

✅Follow the hashtags #OpenEdx2023, #openedx, and #edtech to stay updated on all the exciting happenings at the conference! pic.twitter.com/zZRV2PVcjq

— RaccoonGang (@RaccoonGangCom) March 30, 2023