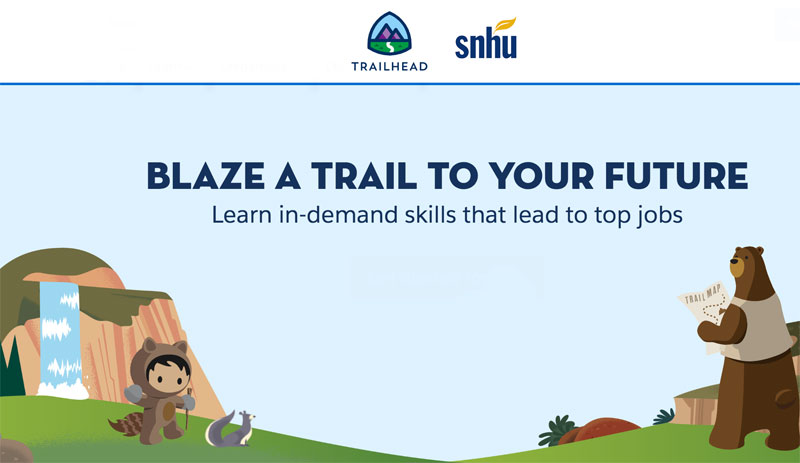 IBL News | New York
Southern New Hampshire University (SNHU) will be the first university to award college credit to students who complete their Salesforce training through Trailhead, the company free online learning platform for developers and administrators.
Over than 1.5 million learners have completed Trailhead modules since 2014 in order to learn how to use Salesforce as administrators or developers. Around 3.33 million jobs are expected to be created in the Salesforce economy by 2022.
Completing any collection of 100+ Trailhead modules for either the Admin or Developer role, along with a Superbadge, will count as a 3-credit Experiential Learning course at SNHU.
The credit can be applied as a major elective for applicable IT-related programs or as a free elective towards one of over 100 undergraduate degree programs at SNHU.
"Trailhead and SNHU are a DNA match in our shared passion for putting students at the center of a new kind of learning experience – one focused on real-world outcomes, not just graduation," said Sarah Franklin, EVP, and GM of Platform, Trailhead and Developers at Salesforce.
"SNHU is focused on treating learners how the best companies treat their customers – always connected so we can anticipate, meet and support their needs," said Dr. Paul LeBlanc, President of Southern New Hampshire University. "While that "customer-centric" approach can be a foreign concept in higher education, SNHU has always worked hard to do that well," said LeBlanc. "Working with Salesforce to talk about new ways to connect learning, college, and career success is a natural extension of that philosophy," said LeBlanc.