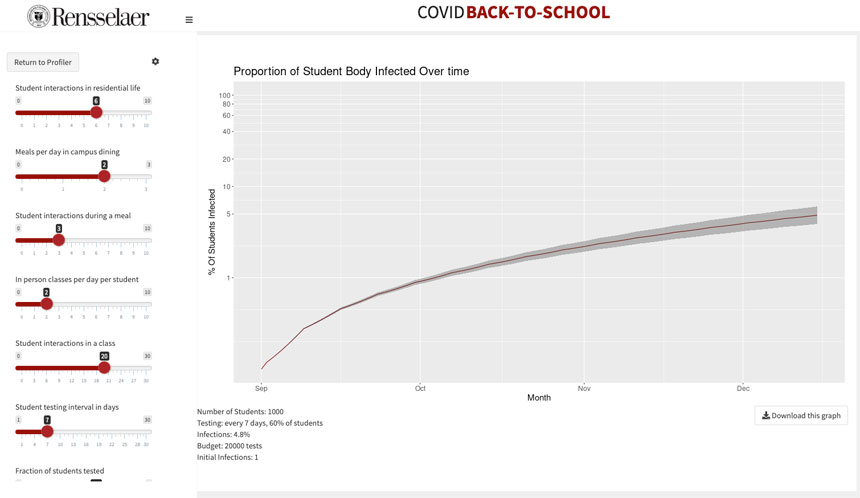 IBL News | New York
Rensselaer Polytechnic Institute (RPI) developed a free web app called "COVID BACK-TO-SCHOOL", that calculates the number of students likely to be infected.
This publicly available tool can be used by schools to analyze re-opening strategies from a data perspective.
Malik Magdon-Ismail, Rensselaer Computer Science Professor and Developer of the COVID Back-to-School Algorithm, explained that "schools can use it, at least, to evaluate how their current strategy will play out and try out various strategies before actually implementing them".
The user selects the category that represents the school type (Primary, Secondary, Boarding School, or College/University) and fills out a profile with info prior to the COVID outbreak. These questions must be answered to obtain a simulated outcome:
What was the average number of people that a student would interact within a single day of their residential life?
What was the average number of people a student would interact with during a single meal in the school dining facilities?
What was the average number of meals a student would have in campus dining facilities?
On average, how many interactions did a student have in a single class that could lead to the virus being transmitted?
What was the average number of in-person classes that a student has in a day?
What percentage of the population is infected if no protocols are in place (If you're unsure, keep it at default)
How many students did your school have?
How long do you want the simulation to run? (Fall Semester 2020, Spring Semester 2021, Custom Data Range)
The algorithmic simulation shows:
The Proportion of Student Body Infected Over Time,
New Infections Over Previous 14 Days, and
Impact of Testing Frequency of Infection
The user can adjust the variables on the fly.
Rensselaer ensured that this tool and other strategies have enabled them to maintain control over the virus.
"We encourage other institutions to learn from and use these tools, like COVID Back-to-School, in hopes that they have similar success in the spring," said Rensselaer President, Shirley Ann Jackson.