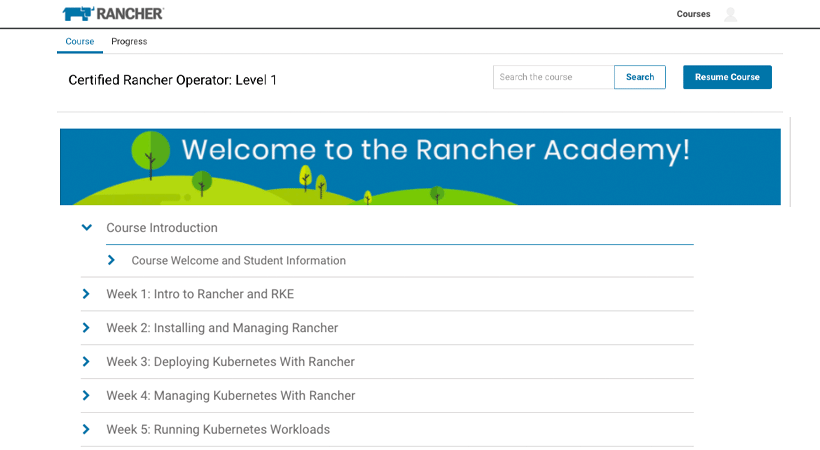 IBL News | New York
Rancher Labs, creators of a widely adopted Kubernetes management platform, announced today the launch of an online certification program through the newly created Rancher Academy.
"It's a professional, no-cost, zero obligation education platform centered on empowering commercial customers and the open-source community to be successful with Kubernetes and Rancher," explained Peter Smails, CMO at Rancher Labs.
The first available course is a free, self-paced, 5-week class, "Certified Rancher Operator: Level 1".  The class is designed to teach developers with a basic understanding of Docker and Kubernetes how to deploy and use Rancher, RKE, along with how to work with downstream clusters.
The course includes a mix of passive and active learning, with increasing detail and difficulty over the five weeks. Components of the learning experience include video introductions, theory work, demonstrations, hands-on labs, quizzes, and a final exam.
Learners will be able to earn a certificate upon demonstrating their knowledge and competence with Kubernetes and Rancher.
"The training is ideal for open source practitioners, partners supporting their customers and end-user customers looking to maximize their investment in Kubernetes, as well as any individual looking to increase their Rancher and Kubernetes competency in order to advance their careers," stated the company.
New classes are scheduled to be announced later this year.
"Rancher Academy addresses the strong demand for a professional, certification-led program, while further cementing Rancher's commitment to education," said the Cupertino, California-based startup, in a press release.
According to the company, Rancher Labs experienced a 250% increase in its Rodeo and Master Classes registrations over the past year.  As an extension of Rancher's education strategy, the next step has been a training initiative to formalize skills and competencies with a professional, enterprise certification program.
The launch of Rancher Academy has been led by Adrian Goins, Director of Community and Evangelism at Rancher Labs.
The learning ecosystem is powered by IBL Education.
Rancher.com reports having over 30,000 active users and 100 million downloads.
•  Cloud Pro: Rancher Labs unveils new Kubernetes certification programme