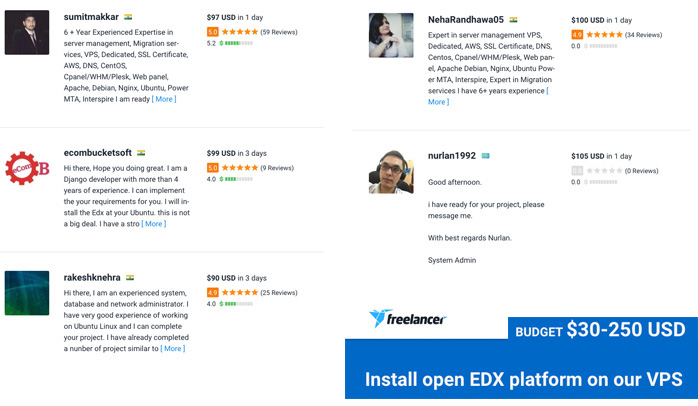 What is the minimum cost of installing a basic, by-default Open edX platform?
The lowest price is free. Bitnami and OpenIBL.com offer a pre-configured image of the platform, with the possibility of adding more features.
There are low-cost hosted services such as eduNEXT, OpenCraft and Appsembler.
And there is an increasing market of overseas freelancers who work on a very low budget.
Freelancer.com recently posted this announcement: "We want to install Open edX on our VPS in a native manner. Our VPS is running Ubuntu 16.04. Budget $30-$250".
The request, written with some grammatical errors, was even demanding a document describing the installation process, which was described as "a bit tricky", "with some errors".
Over 15 developers, mostly from India and Venezuela, responded to the request, trying to be hired for the job. The average bid was $162. Many freelancers were bidding $100.