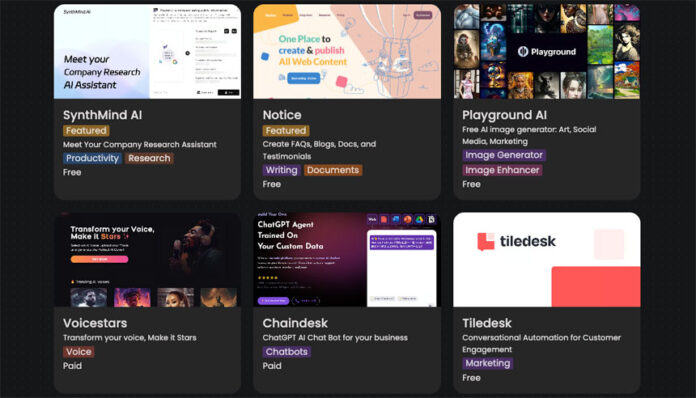 IBL News | New York
OpenAI's custom GPTs are starting to proliferate.
Some bloggers, like Rowan Cheung, author of The Rundown AI newsletter, have started to create directories of GPT.
Supertools.therundown.ai includes AI chatbots classified by area as well as a top-pick ranking.
Its creator said that he got over 500 submissions in just 24 hours.
OpenAI's custom GPTs are taking over.

I built a directory to find the best GPTs and got OVER 500+ submissions in 24 hrs.

The top 10 community favorites so far:

— Rowan Cheung (@rowancheung) November 12, 2023
Before we start, here's the link to my GPT directory.

Search, find, filter, and submit all the best custom GPTs directly, all in one spot.

Link: https://t.co/Zvk5OAciKt pic.twitter.com/K8l03suER8

— Rowan Cheung (@rowancheung) November 12, 2023
1. Designer GPT

Creates and hosts beautiful websites, all built inside ChatGPT.

Link: https://t.co/rh5I3t0kH1 https://t.co/Rz6SV81XKf

— Rowan Cheung (@rowancheung) November 12, 2023
OpenAI wants to be your backend, and frontend. It's consolidating. It's remaking the primitives.

Backends and infra are already deprecated. It's just boilerplate and code is starting to feel ephemeral.

There won't be Vercels. AWS will be automated away. RAG will just be an… https://t.co/o4fOx3Onvc

— Rob Phillips 🤖🦾 (@iwasrobbed) November 12, 2023
ChuanhuChatGPThttps://t.co/wQVTuQbBSK

Lightweight and User-friendly @Gradio Web-UI for LLMs including ChatGPT/ChatGLM/LLaMA pic.twitter.com/9JgQgbcPqV

— AK (@_akhaliq) November 11, 2023
Built in 20 mins using @OpenAI and @streamlit

📣 Introducing UI Auditor

Upload a picture of your app's UI and get feedback from GPT

GPT-Vision is crazy man I'm gonna build a million wrappers

Link below if you want to try it 👇🏽 pic.twitter.com/EiKuySm7zj

— Kartik (@Kdeshpande3) November 8, 2023