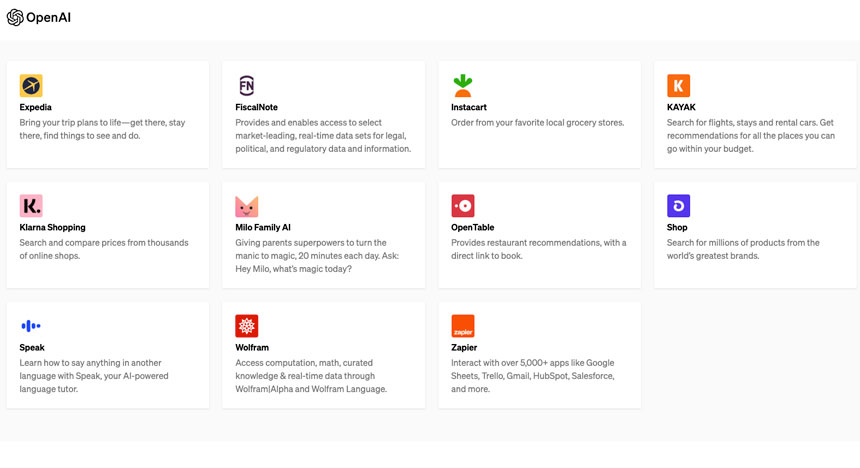 IBL News | New York
OpenAI started to roll out plugins in ChatGPT with a small set of users. These plugins, now in alpha mode, extend the bot's functionality by connecting ChatGPT to third-party applications.
The plugins enable ChatGPT to interact with APIs defined by developers, performing a wide range of actions, such as:
Retrieve real-time information; e.g., sports scores, stock prices, the latest news
Retrieve knowledge-base information; e.g., company docs, personal notes
Perform actions on behalf of the user; e.g., booking a flight, ordering food
They are available to developers on the waitlist.
The stated goal of OpenAI is to build a community of plugin developers.
To foster the creation of new plugins, OpenAI has open-sourced a "retrieval" plugin that enables ChatGPT to access snippets of documents from data sources like files, notes, emails, or public documentation by asking questions in natural language. [Documentation] 
The first plugins have been created by Expedia, FiscalNote, Instacart, KAYAK, Klarna, Milo, OpenTable, Shopify, Slack, Speak, Wolfram, and Zapier.
The OpenTable plugin allows the chatbot to search across restaurants for available bookings, for example, while the Instacart plugin lets ChatGPT place orders from local stores. Zapier connects with apps like Google Sheets, Trello, and Gmail to trigger productivity tasks.
The most intriguing plugin would be OpenAI's first-party web-browsing plugin, which would allow ChatGPT to draw data from around the web, as its knowledge is limited today to info prior to 2021.
An AI startup called WebGPT built a plugin with access to the live web.
Beyond the web plugins, OpenAI released a code interpreter for ChatGPT that provides the chatbot with a working Python interpreter in a sandboxed, firewalled environment along with disk space.
It supports uploading files to ChatGPT and downloading the results; OpenAI says it's particularly useful for solving mathematical problems, doing data analysis and visualization, and converting files between formats.
ChatGPT is going to be the new App Store.

This is it's iPhone moment.

Look at these MASSIVE list of ChatGPT Plugins for almost every use. pic.twitter.com/ueduZN9OH5

— Barsee 🐶 (@heyBarsee) March 26, 2023
This work is licensed under a Creative Commons.

IBL News is a nonprofit initiative.
This initiative is part of
IBL Education
.
New! IBL Education Partnered with