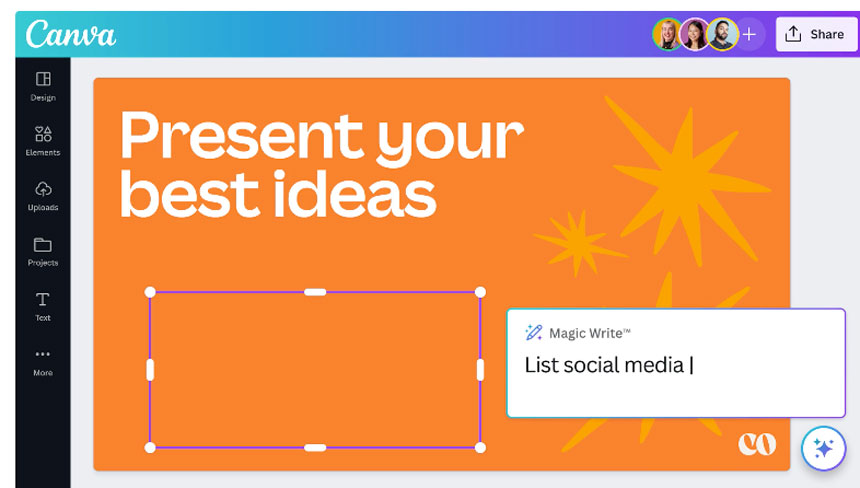 IBL News | New York
Visual communication platform Canva, which touts 120 million users, announced today a host of new AI-powered design tools and a new Brand Hub.
"Ten years ago, we launched Canva driven by a vision to empower everyone to design anything, no matter their skills or experience," said Canva co-founder and CEO Melanie Perkins in a statement. "Today, the huge advancements we're seeing with artificial intelligence have given us the opportunity to once again reimagine the design process."
• Assistant lets users search for design elements and gives recommendations on graphics and styles that match existing designs.
It also provides access to Magic Write, the platform AI copyright assistant launched in December used for writing website copy, presentation summaries, and ideas.
• Canva has also launched a new way to automatically generate presentations.
• A new "Magic Edit" feature lets add or replace anything in an image. A "Magic Eraser" feature allows users to clean up unwanted details in images by brushing over the area.
• Canva's new "Beat Sync" automatically matches video footage to a soundtrack, along with a new "Translate" feature that automatically translates text in designs to over 100 different languages.
In addition to the new AI-powered tools, Canva is introducing a set of new features that it says users have requested:
— "Draw" lets users sketch a simple shape, like a circle, and then have it transform into a polished circle.
— "Layouts" allows users to add content to a page and get recommendations for layout ideas for a design
— "Styles" gives users the ability to browse suggested color palettes and fonts.
— "Layers" tool can be used to see all elements in one place, including text, shapes, images, and video.
At #CanvaCreate, we just unveiled how we're supercharging the Visual Suite with magic. These AI-powered features will make designing quicker, easier, and a whole lot more magical. https://t.co/VPlxhhMy7B

— Canva (@canva) March 23, 2023
Introducing Brand Hub.

With these new features, you can easily design, organize, and share the assets you need to create on-brand content.

It's the home for every brand. #CanvaCreatehttps://t.co/FcAg42mCI8

— Canva (@canva) March 23, 2023
Say goodbye to manual editing and hello to Beat Sync.

Unveiled at #CanvaCreate, this new feature will automatically match your video footage to your soundtrack. pic.twitter.com/0WHe7Sd7f5

— Canva (@canva) March 23, 2023
Drumroll please 🥁

Magic Eraser just announced at #CanvaCreate. Make your subject stand out and clean up unwanted details in your images, just like this 👇 pic.twitter.com/sR9zVtFp0t

— Canva (@canva) March 23, 2023