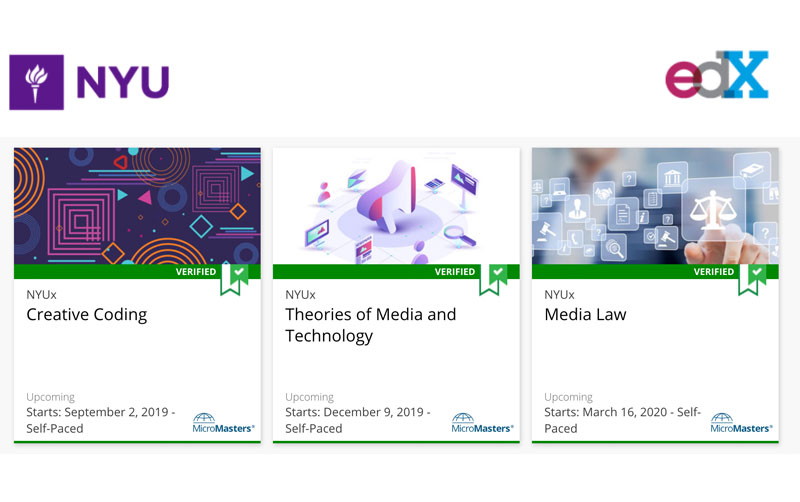 The NYU Tandon School of Engineering joined the edX Consortium, and its first offering will be a MicroMasters in Integrated Media.
This program, which is open for enrollment, consists of three courses followed by a capstone project (for a total of $900).
Creative Coding – It introduces the fundamentals of object-oriented programming, and allows the use of code as a method of self-expression in a variety of media, including 2D graphics, animation, and video processing. This course starts on 

September 2, 2019

.
Theories of Media and Technology, – It examines a range of historical and contemporary trends in the theoretical analysis of media and enables students to critically describe and discuss media concepts and projects, helps gain an understanding of how people create and consume media. This course starts on 

December 9, 2019

.
Media Law, – It consists of an advanced seminar that explores media and communications principles and regulations and fosters an understanding of the legal and ethical framework surrounding issues in digital media. This course starts on 

March 16, 2020
"Our partnership with edX allows us to offer yet another pathway to becoming a lifelong learner," said NYU Tandon Dean Jelena Kovačević.
"The road to an advanced degree is not always conventional or linear, and we are proud to offer a new entry point for motivated students, from mortarboard to beyond. We know that science, technology, and engineering are vital and enriching subjects, whether you are a K-12 student or a mid-career professional, and we are committed to offering learning opportunities to those at every stage."
"At NYU Tandon, we are finding novel ways to engage nontraditional students, such as our online Bridge Program, which we created to provide individuals with non-engineering backgrounds with the tools needed to embark on graduate-level studies here, and our MicroMasters program on edX is a welcome addition in our efforts to bridge the gap between aspiration and attainment," she added.
"NYU Tandon's Integrated Digital Media program provides a wholly unique combination of theory and practice that sets it apart from other digital media offerings," said R. Luke DuBois and Scott Fitzgerald, co-directors of the school's IDM program.
"We consider this MicroMaster's to be only the beginning, and look forward to partnering with edX in the future," stated Nasir Memon, NYU Tandon's associate dean for online learning.