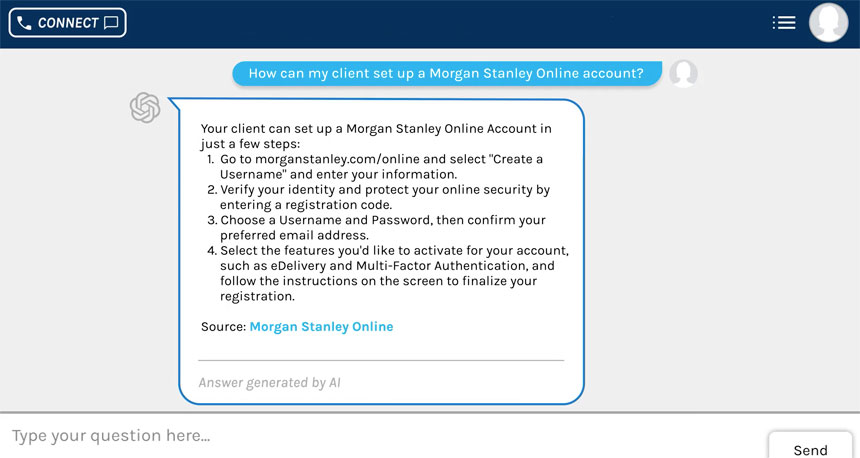 IBL News | New York
Wealth management bank Morgan Stanley disclosed that it has implemented OpenAI's GPT-4 model into an internal chatbot, which uses embeddings and retrieval capabilities.
Over 200 employees are querying the system on a daily basis to obtain the insight they need and enable them to assist clients more quickly.
Morgan Stanley currently maintains a content library and papers, largely in PDF form, across many internal sites, with hundreds of thousands of pages of knowledge and insights. This vast amount of information, largely in PDF form, spans investment strategies, market research and commentary, and analyst insights.
Its personnel is required to scan through this library to find answers to specific questions in a time-consuming and cumbersome search.
"The model effectively unlocks the cumulative knowledge of Morgan Stanley Wealth Management," says Jeff McMillan, Head of Analytics, Data & Innovation, whose team is leading the initiative.
"Think of it as having our Chief Investment Strategist, Chief Global Economist, Global Equities Strategist, and every other analyst around the globe on call for every advisor, every day. We believe that is a transformative capability for our company," he added.
GPT4 accesses, processes, and synthesizes the info. It's being trained on vast amounts of text on the internet and builds relationships between words, sentences, concepts, and ideas.
In addition to having trained GPT-4 for its internal chatbot, the wealth management firm is also evaluating additional OpenAI technology to enhance and streamline follow-up client communications.
.