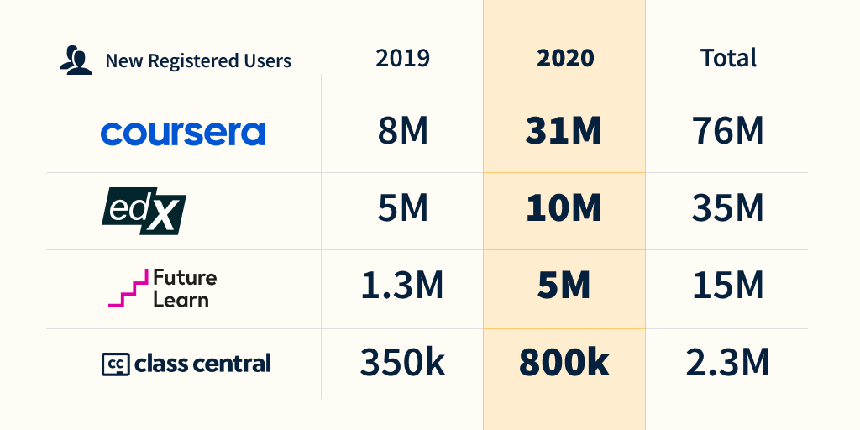 IBL News | New York
MOOCs (Massive Online Courses) started the second year of the pandemic attracting a massive number of learners.
Within the last ten months, MOOCs have added one-third of its enrollment until reaching 180 million worldwide (excluding China), according to data released by Class Central.
Coursera, edX, Udacity, and FutureLearn–the largest MOOC providers–launched over 2800 courses, 360 micro-credentials, and 19 online degrees in 2020. Many were free certificate courses.
Currently, about 90 online providers offer free learning opportunities. This phenomenon prompted plagiarism and cheating from students aiming to chase free certificates, as a mentor of Coursera denounced.
Today, the number of MOOCs surpasses 16,500. It's been a dramatic rise since the MOOC movement started in 2012.
The most popular course during the pandemic was Yale University's The Science of Well-Being, with 2.5 million enrollments in 2020.
One-fifth of the 100 most popular courses launched in 2020 are related to the COVID pandemic. The top course, with over 1 million enrollments, is Johns Hopkins' COVID-19 Contact Tracing. It's followed by Harvard's Mechanical Ventilation for COVID-19, with 300K enrollments.
"I'm calling 2020 the Second Year of the MOOC," wrote Dhawal Shah, Founder and CEO at Class Central.