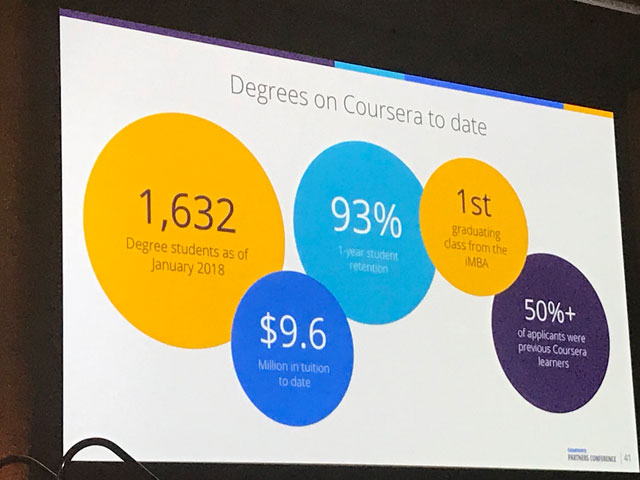 The three big MOOC providers – Coursera, edX.org, and Udacity – have built effective marketing channels, having a unique competitive advantage because of their lower user acquisition costs of in the online degree space compared to traditional players.
"MOOCs have become big business," concludes the expert Dhawal Shah, director of Class-Central.com. Both the online degree and the corporate learning markets are their new revenue sources.
Coursera, with 1000+ corporate partners, is making $100M in annual revenue, according to Class-Central.com. Along with the launch of six new MOOC-based online degrees, Coursera recently disclosed they made $9.6M in tuition from their online degrees.
Udacity, with over 400 employees, got $70M in revenues in 2017, up from $29M in 2016.
This optimistic atmosphere was shared two weeks ago in San Diego, during the ASU+GSV summit.  A panel of the top leaders provided hints, but no numbers, on the future of education and training at scale.
"Every degree will be offered online," said Jeff Maggioncalda, CEO at Coursera. "Coursera for Business grew 300 percent last year", he added. "CEOs want these programs for their employees".
"We see many employees taking these MOOC-style courses". "People will be constantly upskilling," said Anant Agarwal, CEO at edX. "Education is now much more modular." "Modularity and stackability are very important".
"Now we see a job description and we do the curriculum", revealed Vishal Makhijani, CEO at Udacity.
Below is the video of the entire talk.
"MOOCs Afters The "Madness"
Moderator: Louise Rogers, Strategic Advisor, GSV Acceleration Fund
Anant Agarwal, CEO, edX;
Li Chao, President, Xuetang;
Jeff Maggioncalda, CEO, Coursera;
Vishal Makhijani, CEO, Udacity