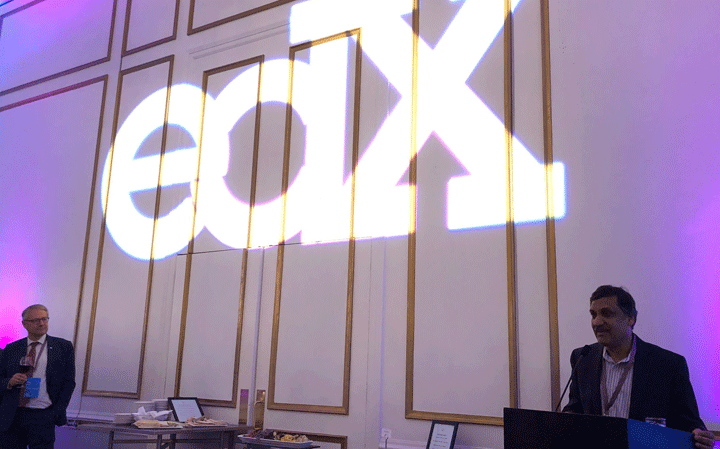 "MOOCs are dead," claimed edX's CEO, Anant Agarwal, last month during the private Global Forum conference in Boston. Some partner universities aligned with the goal of openness in education were shocked.
Additionally, the announcement that edX.org will soon (this month) start charging for graded assessments made some uncomfortable.
"MOOC is a philosophy of education; it has never been a business model. We signed up on edX following this principle," said a member of one participating university.
This new reality goes against that dream. edX, like Coursera, Udacity, and FutureLearn, needs to be either financially sustainable or profitable. Therefore, revenue-generating solutions are required. A successfully emerged idea is MOOC-based degrees, developed in partnerships between universities and the aforementioned platforms.
The problem is how to split the revenues. Coursera and edX require a 50 percent split, because of the technology and marketing costs. Not all of the institutions are ready to take this deal. They believe that their brands, along with low prices, are powerful enough to make their online degrees successful. Regarding the technology, there are several solutions, including Open edX, which is a community-based, open source software (edX.org uses this code, plus an additional 10% of proprietary software).
With revenue sharing or not, the fact is that these types of online degrees, wrongly called MOOCs, are on the rise. Designed to operate on a larger scale, they feature lower prices than on-campus online equivalents and offer more flexible criteria for admissions. Around 47 online degrees have been announced so far, and many more are planned.
This is the recent history of how these Master's and Bachelor's online degrees have unfolded:
The first program was Georgia Tech's groundbreaking online Master of Science in Computer Science (OMSCS) program, launched in 2014 on Udacity with support from AT&T. The course, with a $6,800 tuition, attracted approximately 10,000 students. [Faq]
In March 2018, Coursera announced its first fully online Bachelor's degree, targeting both students who are pursuing their first degree as well as those who already have a Bachelor's. It was a 3-4 year Bachelor of Science in Computer Science, developed by the University of London. The program costs approximately $13,300 to $23,500, depending on the student's geographic location.
In parallel, Coursera reported the development of six new Master's degrees: a Master of Computer Science from Arizona State University, a Global Master of Public Health from Imperial College London, a Master of Computer Science from the University of Illinois, a Bachelor of Science in Computer Science from the University of London, a Master of Applied Data Science from the University of Michigan, and a Master of Public Health from the University of Michigan. Coursera revealed plans to offer 20 online degrees by 2019, becoming a kind of OPM (Online Program Manager) who helps colleges build online degree programs. [The story at IBL News]
In August 2018, Georgia Tech announced a new online master's degree in Cybersecurity for less than $10,000 on edX.org. This OMS Cybersecurity (Online Master of Science in Cybersecurity) will be launched on January 7, 2019, with 250 students and will scale over time. OMS Cybersecurity was Georgia Tech's third at-scale online degree program. It followed the success of the mentioned 2014 Master of Science in Computer Science, as well as the Online Master of Science in Analytics (OMS Analytics), launched in 2017 on edX with support from AT&T and Accenture. [The story at IBL News]
In October 2018, the edX organization achieved a milestone on its expansion strategy by announcing the 2019 launch of nine online Master's degree programs for a "disruptive price" between $10,000 and $23,000. The average Master's degree ranges between $30,000-$120,000. These programs, in areas such as Data Science, Cybersecurity, Computer Science, Analytics and Supply Chain Management, will be developed by Arizona State University, Curtin University, Georgia Institute of Technology, Indiana University, University of California San Diego, University of Queensland, and the University of Texas at Austin.  [The story at IBL News]
In other words, MOOCs are enjoying a second life.