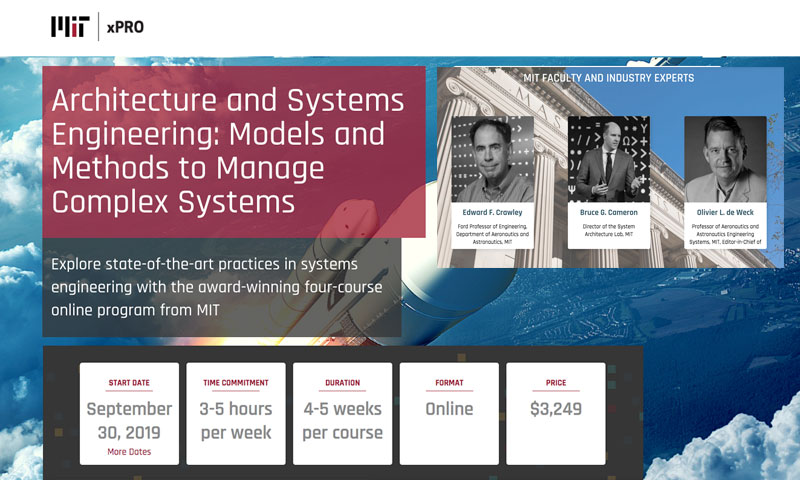 IBL News | New York
MIT Professional Development Division has announced a new edition of its Architecture and Systems Engineering series starting at September 30.
This four-course online program, with a duration of 4-5 weeks per course and no application process, will cost $3,249, and upon completion, students will earn a professional certificate from MIT xPRO plus Continuing Education Units (CEUs) –but not credit that can be applied to a degree.
It will explore the newest practices in systems engineering, including how models can enhance functions and how tasks can be augmented with quantitative analysis.
This multi-course is featured in a new fall catalog format.
MIT xPRO, which designs courses for post-graduate working professionals with industry experience, has moved its Open edX-based home page into a new discovery portal located at xpro.mit.edu.
Another program for this fall refers to Leadership Principles for Engineers, Scientists, and Researchers.
This week only! Save 10% on MIT xPRO's Systems Engineering online certificate program with coupon code EARLYBIRD10. https://t.co/eFvXMusNhn

Explore state-of-the-art practices in #systemsengineering with the award-winning four-course online certificate program from MIT xPRO. pic.twitter.com/AnG43No9S2

— MITx on edX (@MITxonedX) August 5, 2019