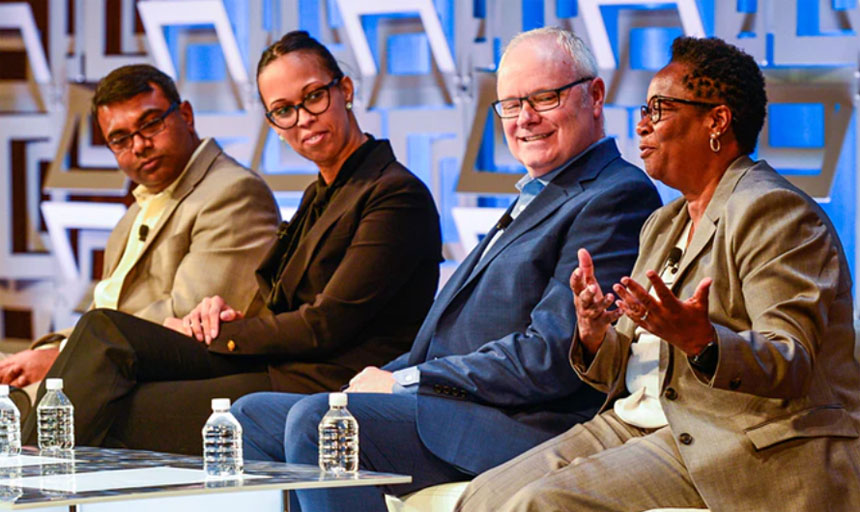 IBL News | New York
Over 265 attendees are expected at MIT Sloan CIO Symposium, which will take place on May 22 – 23 in Cambridge, Massachusetts. It will be a mix of people from both academia and the industry, organizers told IBL News.
The gathering will address topics that are at the intersection of business and technology, as reflected on the agenda. The featured theme will be "Digital Ecosystems: Reshaping the Future of Business".
The Symposium has selected four finalists for its 15th Annual MIT Sloan CIO Leadership Award.
Vagesh Dave

, Global VP & CIO at McDermott International, Ltd

Manoj Kumbhat

, CDO & Global CIO, Kimberly-Clark
Wafaa Mamilli, Chief Information and Digital Officer, Zoetis

James McGlennon

, EVP and CIO, Liberty Mutual Insurance
The winner will be announced on May 22, 2022. "The leadership and innovation demonstrated by our finalists will be instrumental in accelerating digitalization and shaping the future of business," said George Westerman, Award Co-Chair.
The key characteristics of CIO leadership are adapted from the award-winning book The Real Business of IT: How CIOs Create and Communicate Value, which draws extensively upon research conducted at MIT Sloan.
The event will follow a hybrid format. The Symposium will include the Innovation Showcase, highlighting ten early-stage companies with cutting-edge solutions that combine both value and innovation in Enterprise IT. They are start-ups with less than $10 million in 2021 annual revenues.
Attestiv – 

Natick, MA


Attestiv provides authenticity and validation for digital photos, videos and documents using patented tamper-proofing blockchain technology and AI analysis.


Dexai – 

Boston, MA


Dexai builds a robotic sous chef named Alfred, a lightweight robot arm that retrofits into existing kitchens and automates most activities.


Einblick – 

Cambridge, MA


Einblick's no-code data boards help teams work together in real time to analyze data, predict the future, and make data-driven decisions.


Ion Channel – 

Alexandria, VA


Ion Channel is a software supply chain risk management platform that identifies and monitors third-party security risk from software suppliers (vendors, outsourced app developers, and open source).


iQ3Connect – 

Woburn, MA


iQ3Connect's cloud XR platform empowers enterprises to transform expensive in-person training into cost-efficient interactive virtual training accessible on the web.


Julia Computing – 

Cambridge, MA


Julia Computing products harness the power of Julia to advance data science and scientific discovery.


Modzy – 

Vienna, VA


Modzy is a software platform that unlocks the power of AI for the enterprise.


Prisma – 

Buenos Aires, Argentina


Prisma is a B2B algorithmic unified platform that drives revenue growth by combining price, assortment, and space planning optimization.


Snowplow – 

Boston, MA


Snowplow is built from the ground up to enable organizations to create data for AI and advanced analytics, creating a data stream capable of powering their modern data apps.


Wabbi – 

Boston, MA


Wabbi's Continuous Security platform integrates with existing development workflows to empower Development teams to own AppSec, while giving Security accountability.
Organizers note that Innovation Showcase winners have been acquired by leading companies. Bonsai was acquired by Microsoft; CloudSwitch was acquired by Verizon; Rypple was acquired by Salesforce.com; and Yammer was acquired by Microsoft for $1.2 billion, among others.
Meet the Speakers – @MITCIO – May 22-23
Leigh Hafrey, Sr. Lecturer, Communication and Ethics@MITSloan

Panels: An Ethical Framework for AI and Digital Innovation

Register: https://t.co/Tk918pe59N
Full Bio: https://t.co/M0Pg5c7iBI pic.twitter.com/rvBxuBTmxj

— MIT CIO Symposium (@mitcio) May 19, 2022