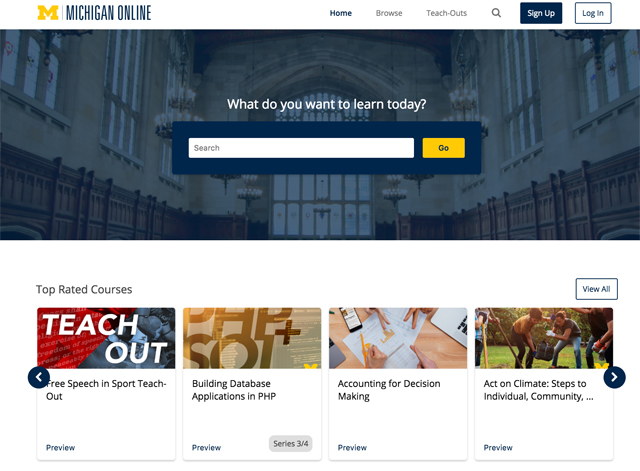 The University of Michigan (U-M) has launched a portal called Michigan Online. which brings together more than 120 MOOCs, teach-outs, and programs currently hosted on Coursera and edX (overall, with 7 million enrollments).
"The launch of Michigan Online will make it easier for people on and off campus to navigate the rich and growing content that is Michigan," said James Hilton, U-M vice provost for academic innovation. "Michigan Online further extends U-M's ability to provide high-quality learning opportunities for learners at all levels," added James DeVaney, U-M Associate Vice Provost for Academic Innovation.
This portal offers users a chance to browse an extensive library of online experiences developed by faculty and instructional teams.

Users can look for courses by subject, duration of the course and type.
Course and teach-out subjects include biology and life sciences, arts and humanities, social sciences, business and finance, education and teacher training, physical science and engineering, data science, computer science, health and safety, and design.
Michigan News: Online portal helps learners find U-M digital learning opportunities in one place