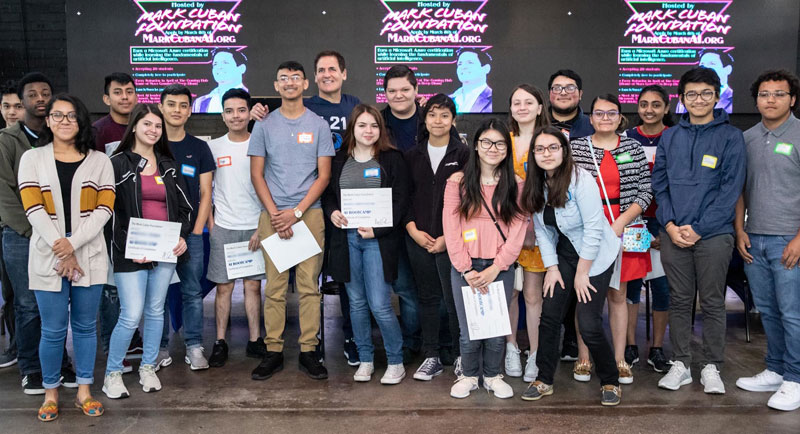 IBL News | New York
The Mark Cuban Foundation, Microsoft and Walmart have joined forces to train Dallas' high schoolers in AI.
The three organizations founded the first Dallas "AI Bootcamp" program in April. It was a four-session course aimed at teaching fundamental artificial intelligence concepts to Dallas public school students.
For the Mark Cuban Foundation, "it was the first in a series of planned initiatives that Cuban hopes will give students early exposure to critical technology concepts and skills," said this organization in a blog post.
During the "AI Bootcamp", students used Microsoft's Azure Cloud Computing Platform and its built-in Cognitive Services to build their own working AI applications. The course familiarized learners with Machine Learning, Natural Language Processing, and Computer Vision.
Walmart showed students how to use its own data to train an intelligent system to accurately predict weekly sales at any store in the country.
Guest speakers demonstrated real-world applications.
Students [in the picture] received a Certificate of Completion from Microsoft, digitally signed by Microsoft's CEO Satya Nadella, that they can add to their resumes and cite on college applications; a $100 credit for Microsoft Azure to continue learning and building applications on their own; and a photo with Mark Cuban.
"You're probably some of the earliest high school kids that ever got exposed to learning this stuff…That's why I get so excited about this. You guys will get to do things that no one your age has come up with. That's exciting," said Mark Cuban to the program's first graduates.
Now the Mark Cuban Foundation and Microsoft plan to work together to distribute the AI Bootcamp curriculum to 100 Microsoft STEM Volunteers across the country. Locally in Dallas, Cuban announced he will partner with schools and other educational organizations to continue hosting AI programs.
The Foundation plans to host the AI Bootcamp again this August. (Pre-registration is at http://register.markcubanai.org).