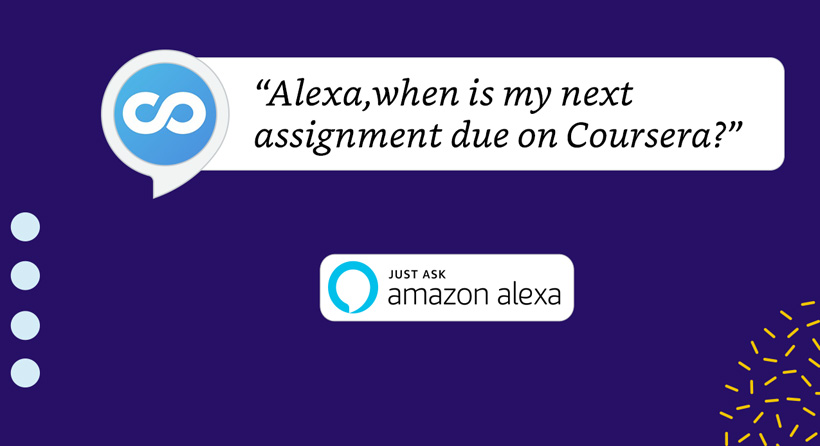 IBL News | New York
"Alexa, when is my next assignment due?"
Coursera will introduce a new tool for Alexa in October, taking advantage of the new API, Alexa Education Skills, created by Amazon for any edtech company.
Along with the MOOC portal, CanvasLMS, Blackboard, Kickboard and ParentSquare plan to activate this feature soon.
By simply asking Alexa, learners will get updates based on the latest information on their student account.
Voice assistants, like Alexa and Siri, are being rapidly adopted.
Available to all learners with a Coursera account and Amazon Alexa-enabled device, this tool will help learners access course assignment and quiz scores, due dates, and progress updates, among other pieces of information.
"Recognizing this trend, we introduced a new tool that helps learners fit education into their daily lives, we've taken another exciting step toward our mission of providing transformational learning experiences to anyone, anywhere," Alex Sanchez, Product Management, Mobile Experiences, and Emerging Technology at Coursera, wrote in a blog post.
The Alexa Education Skill API integrates with Learning Management Systems (LMS), Student Information Systems (SIS), Classroom Management providers, and massively open online course (MOOC) platforms.
The new API will be available in preview by invitation only for the following interfaces:
Alexa.Education.Profile.Student
Alexa.Education.Course
Alexa.Education.Coursework
Alexa.Education.School.Communication
Alexa.Education.Grade.Course (coming soon)
Alexa.Education.Grade.Coursework (coming soon)