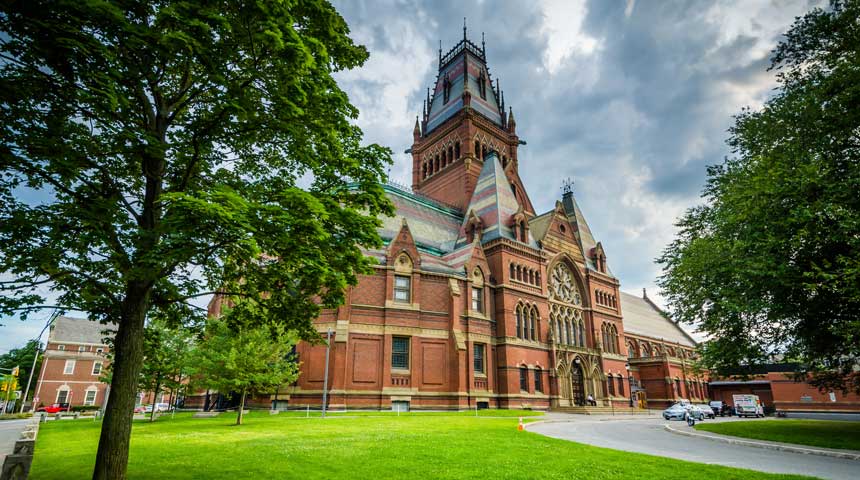 IBL News | New York
Harvard University's mythical endowment — the largest endowment in the world — grew even beyond the most favorable expectations this year, despite the pandemic.
Harvard's annual financial report for the fiscal year ended June 30, 2021, showed that its endowment increased from $11.3 billion to a breathtaking $53.2 billion, a 27% growth.
In addition, in the same fiscal year, the university operations yield a $283 million surplus. In 2020, the institution's budget showed a $10 million operating deficit.
The fact that the university — an institution with around $5.5 billion in revenues — was forced to send students home in March 2020, beginning more than a year of remote instruction didn't damage its financial health.
In their annual report letter summarizing the year, Thomas J. Hollister, Vice President for Finance and CFO, and Paul J. Finnegan, Treasurer, observed that "Harvard's finances ended the year in a dramatically improved position compared to initial budget assumptions."
The net decrease in revenue, 5 percent during the two-year period, was half what University administrators feared. Total student income decreased nearly $200 million in fiscal 2021 (17 percent) to $888 million.
Overall, Harvard emerged stronger from the pandemic, better positioned to educate and conduct research in the future, Harvard Magazine writes.
To make things better, Harvard Management Company (HMC) recorded a 33.6% investment return on endowment assets during fiscal 2021, up from 7.3% in the prior year. That was the highest return recorded since the 43.6 percent achieved in fiscal 1983 (during a period of declining interest rates and recovery from a recession) and 32.2 percent in fiscal 2000 (during the dot.com boom).
Endowment investment returns for the year totaled a staggering $12.8 billion. That sum eclipsed the traumatic $11-billion loss recorded in fiscal 2009, during the financial crisis and Great Recession, and handily outpaced the $9.6 billion realized from all sources and for all uses by Harvard Campaign, which concluded in June 2018.
"The true heroes for Harvard in fiscal 2021 were supportive donors, past and present," said the report. The endowment distribution for operations increased about 2 percent, to just over $2 billion. And gifts for current use surged $63 million (13%) to $541 million, although some of this reflects a swing in payments to Harvard from its affiliated hospitals.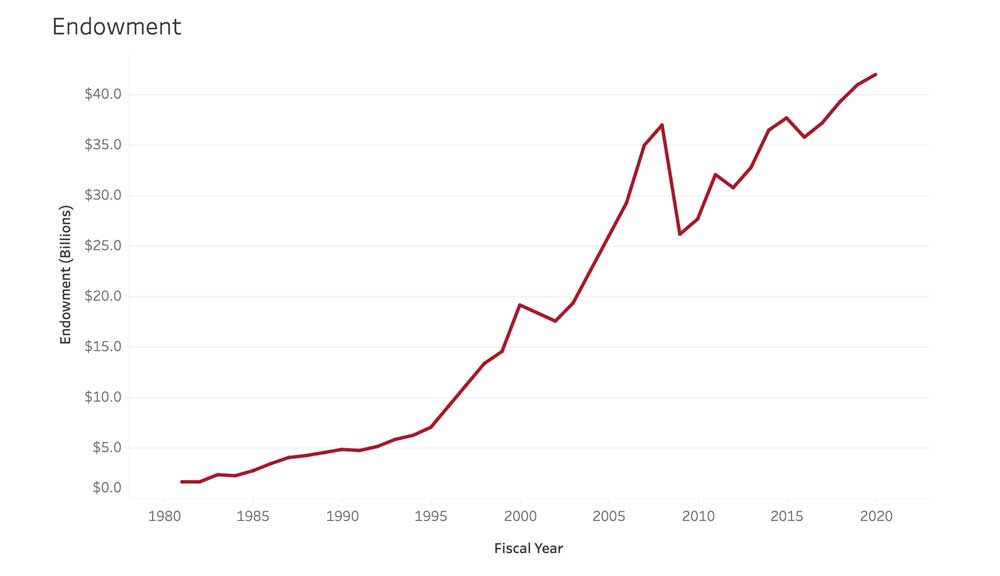 •
The Harvard Management Company (HMC) recognized that the endowment's robust return took place in a context of economic recovery, which led to 40-plus percentage-point gains in U.S. stock indexes during the fiscal year of 2021. "Those conditions also prompted a deluge of initial public offerings by new companies at eye-popping valuations (rewarding the venture-capital and private-equity funds that had underwritten them: investment managers to whom large endowments often allocate sizable shares of their assets)."
The Wilshire Trust Universe Comparison Service, a standard analysis of institutional investments, reported the best overall results in 35 years, with median returns of more than 33 percent for large foundations and endowments. That was nearly ten times the median return of 3.4 percent for fiscal 2020.
Extraordinary performance in equity investments drove the results of the endowment. HMC's managers achieved 50 percent returns on public equities (14% of HMC's assets). Even better were the 77 percent returns on private equity (34 percent of assets, the largest single allocation).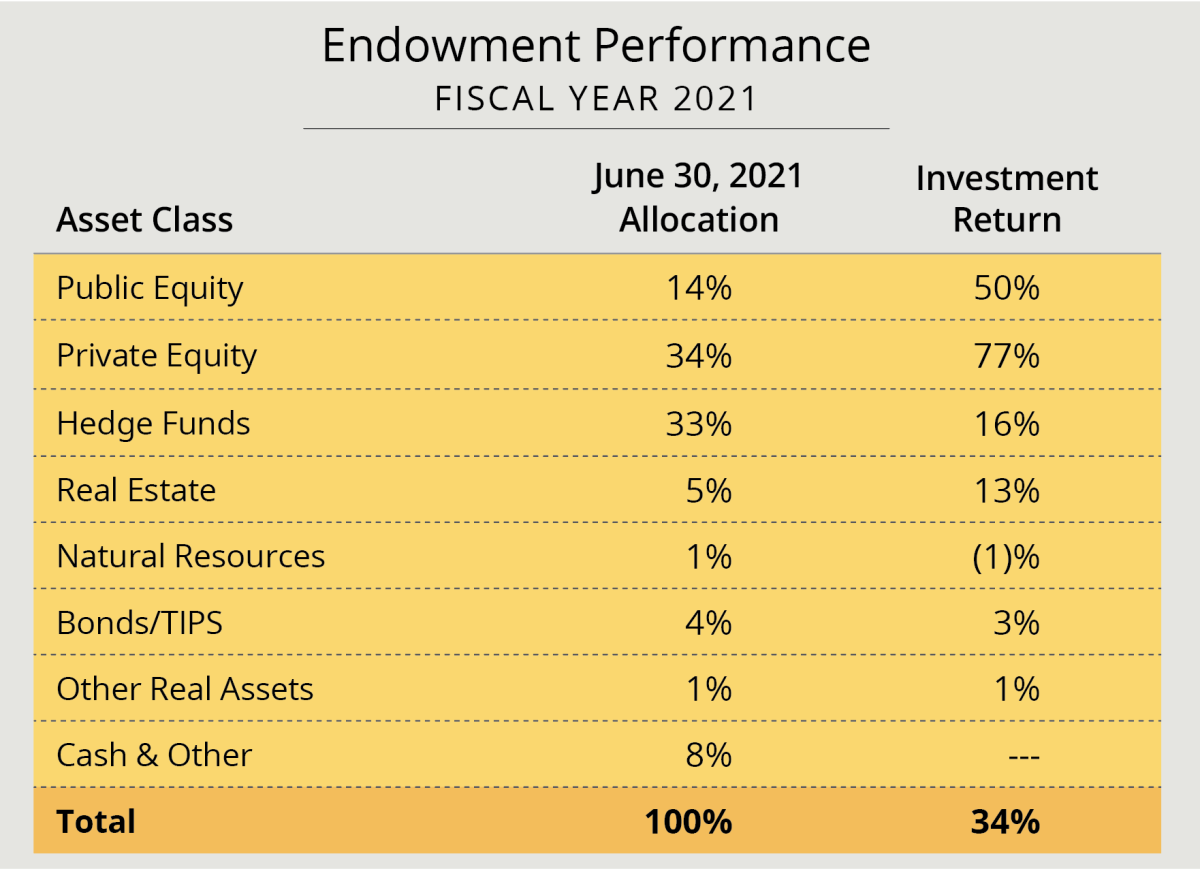 The large shift toward private equity reflects, to some extent, N.P. Narvekar's — CEO at Harvard Management Company — focused move in that direction since fiscal 2018 (with a related sharp reduction in the real-estate and natural-resources portfolios).
Other changes in allocation—such as the sharp decrease in public equity, where HMC's external managers continued a multiyear record of significantly outperforming market benchmarks—were implemented following Harvard's risk parameters, as well.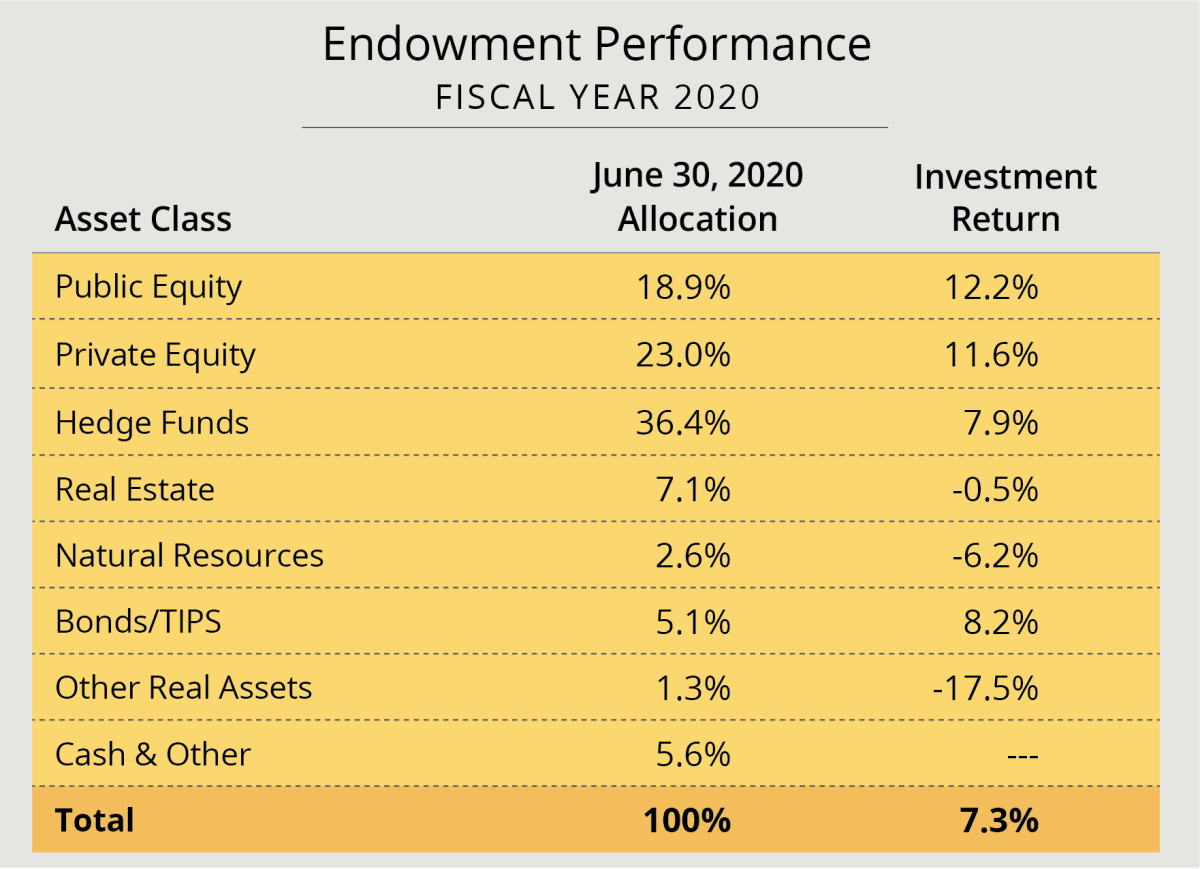 • Harvard University financial report
• Harvard Gazette Q&A on Harvard's finances and operations with executive vice president Katie Lapp and Tom Hollister.
—-