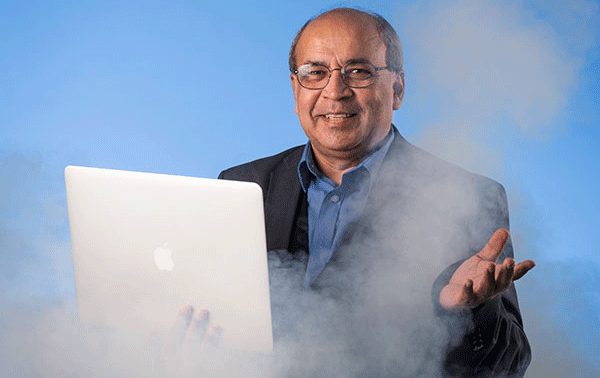 Mikel Amigot | IBL News 
A refined and revised version of Georgia Tech's first AI-based teacher assistant will be introduced this summer as a way to enhance some of the syllabi at the school. This virtual agent, known as Jill Watson and developed by Professor Ashok Goel, will turn three years old.
Yakut Gazi, Associate Dean of Learning Systems at Georgia Tech, highlighted during the 2019 Learning Impact Leadership Institute conference, last week in San Diego, the fact that her institution "is leading efforts in Artificial Intelligence's development". "Many students of the OMSC degree didn't know that an AI agent was responding their questions until the end of the semester," she added.
Jill Watson is the result of the work of Prof. Goel [in the picture] with a team of graduate students in his Design & Intelligence Laboratory (DILAB). This team created this chatbot to answer routine, frequently asked questions in the forum for his online Knowledge-Based Artificial Intelligence (KBAI) class.
The original intent was to free up time for the course TAs (Teacher Assistants), so they could concentrate on more creative and less repetitive tasks. But an expected outcome arose: more learner engagement. Before Jill Watson, students averaged 32 comments per semester; after Jill Watson, each student averaged 38 comments per semester.
In the spring of 2016, once this AI-agent's identity was revealed, the reaction was overwhelmingly positive.
One student wanted to nominate Jill for the Outstanding TA award, and not one student complained.
National news outlets such as the Wall Street Journal and Washington Post ran stories on her. Ashok Goel gave a TEDxTalk on Jill, and he was invited by the Gates Foundation in January 2018 to participate in a brainstorming session on the future of AI in education.
Georgia Tech's motto is affordability, accessibility, and applicability, and Jill Watson can help human teachers deliver education at scale.
• Georgia Tech: Jill Watson's Terrific Twos