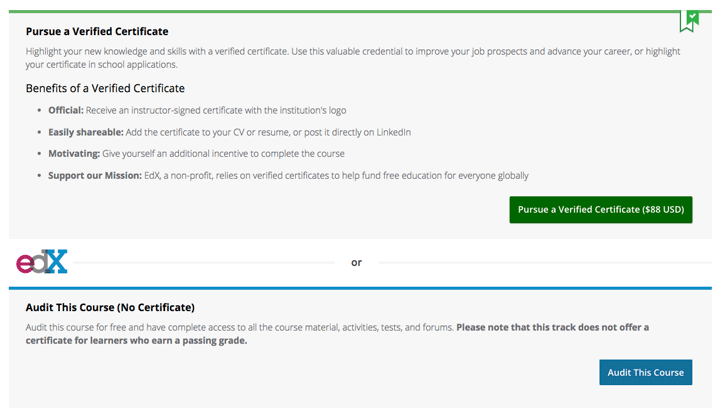 The edX organization has implemented a new revenue model on its catalog, based on charging to access graded problems. Anant Agarwal, CEO at edX, made the announcement today on the official edX blog.
Audit learners (free learners) will continue to access the core course content, including videos, resources, discussion forum, and practice problems, but they will need to upgrade to the "verified learner status" and pay a fee (usually $50 to $100) to unlock graded assessments.
Additionally, after the free course ends, users won't be able to access content unless they upgrade into the paid option. This time limit feature will be set on most of the existing courses.  "Existing audit track enrollments will not be affected. Learners will be able to access all content in any course(s) they enrolled in prior to December 17, 2018," edX explained.
With this model, edX expects to generate a 30% increase in its overall revenue, which will be split with partners, as sources told IBL News.
This change, aligned with the business practices of Coursera, Udacity and other competitors, comes after several months of exploring different revenue models and is part of edX's strategy to become sustainable. Particularly, edX's paywall will be similar to FutureLearn's upgrading feature. Coursera was the first to charge for graded assignments three years ago.
During the testing time prior to the implementation, edX claimed that it didn't receive negative feedback from learners, although some university partners complained about it during the last Global Forum conference in Boston last month.
"We have decided on a model that we feel will best drive edX forward while staying true to our mission," explained Anant Agarwal. "We wanted to strike a balance of moving edX towards financial sustainability while maintaining a robust level of free access."
Also, MITx shared his view. "We support edX in its mission and path. We are working to ensure we maintain the integrity of the learning experience for all learners under this updated model. Materials for over 2,600 MIT courses will continue to be available for free to all learners on MIT OpenCourseWare (OCW)."
Dhawal Shah, founder of Class Central, said "that edX's paywall will now be higher than Coursera's, especially since Coursera has born the brunt of criticism about restricting access to MOOCs, which many attributed to pressure from Coursera's VC investors."  "Strangely enough, with this change to edX, Coursera is now the MOOC platform that allows free users to go furthest before hitting a paywall."
• edX Blog: Updates To Our Platform: Achieving Long-Term Sustainability
• Inside Higher Ed: EdX's Struggle for Sustainability