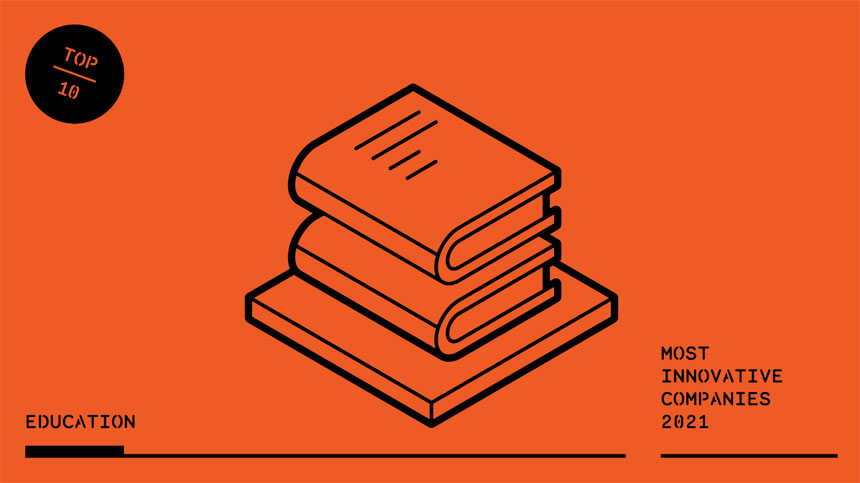 IBL News | New York
edX, Skillshare, and Outschool have been included in Fast Company's top 10 most innovative organizations in education in 2021.
The magazine explained that these companies found ways to thrive during the COVID-year when most learning is remote. Skillshare and Outschool amused learning while developing their creative passions, while edX reinvented the bachelor's degree.
The 11 "MicroBachelors" degree programs launched by edX last year enrolled over 180,000 students.
This is the complete list, along with Fast Company's reasoning.
1. Outschool — For making remote learning fun. With 1.6 million sign-ups, Outchool is a marketplace for virtual extracurriculars, such as ukulele lessons and food-science experiments, for students ages 3 to 18.
2.  Ruangguru — For livestreaming school for free to 10 million students during lockdown. This Indonesian startup took an engaging approach to help kids.
3. Skillshare — For giving creatives and hobbyists a pandemic outlet. This video platform for video lessons attracted 3 million new users last year.
4. Tonies — For bringing children's stories to life — without a screen and without Amazon. Toniebox is a Germany-based alternative to Alexa for parents looking for audio storytelling without an e-commerce link. To date, the company has sold 1.7 million Tonieboxes.
5. edX — For reinventing the bachelor's degree. MicroBachelor students can earn transferable credits and work their way toward credentials for less than a third of the cost of a traditional undergraduate program.
6. 4.0 — For giving educators an entrepreneurial boost — For teachers, New Orleans–based 4.0 is both a community and an incubator for entrepreneurial ideas. 4.0's fellowships provide cash and coaching, giving educators tools to build solutions to challenges they see in their classrooms.
7. Homer — For improving early reading scores. Founded in 2013, the company takes a research-based approach to build reading skills in children ages 2 to 8—the group that has struggled most with the transition to virtual learning.
8. Virti — For training frontline healthcare workers to respond to a deadly new threat. This U.K.-based startup uses immersive AR/VR scenarios to train healthcare professionals to manage infrequent, high-risk events—a mission that COVID-19 made all the more urgent.
9. Packback — For bringing intellectual curiosity to online discussions. Packback is a tool for facilitating online discussions that serves 600,000 university students. When they participate in online course forums, students get peer feedback on their critical thinking. Packback uses the pedagogical framework Bloom's Taxonomy as the basis for its AI engine.
10. Encantos — For creating fun bilingual learning for preschoolers. Encantos creates bilingual learning experiences for kids ages 2 to 12, with a focus on preschoolers.
Resource:
• The World's 2021 Most Innovative Companies