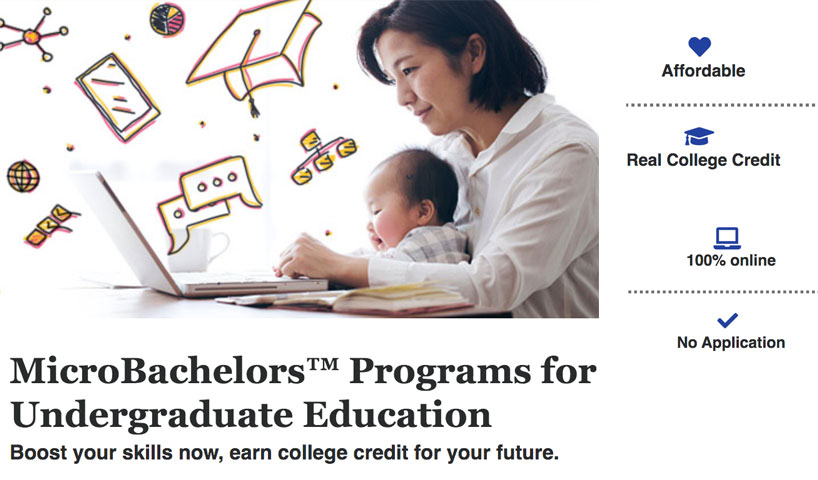 Mikel Amigot | IBL News, New York
edX.org announced yesterday the launch of the so-called MicroBachelors Program, intended to adult Americans who cannot afford a traditional Bachelor's degree and cannot take the time away from work to pursue one.
These fully online programs consist of three to five courses, without admission requirements or application, and are priced between $500 and $1,500 (roughly $166 per credit).
Once learners complete the full program and pass, they will earn a MicroBachelors program credential from the university offering the program. This stackable credential can be applied toward a full bachelor's degree.
The first two MicroBachelors are IT Career Framework, from Western Governors University (WGU), and Computer Science Fundamentals, from NYU. A third one, Professional Writing, from Arizona State University (ASU) is forthcoming.
The Information Technology Career Framework is a 6-month program with three courses, is recognized for credit by WGU and costs $1,347.
The NYU's Computer Science Fundamentals is a 6-month program with three courses and costs $500. However, this program is pending recognition for credit by Thomas Edison State University (TESU).
In the whole MicroBachelors program, learners will be able to apply credits from one of edX's university credit partners toward a full Bachelor's degree.
"This is the first credit-backed stackable credential, marking a significant milestone in online learning," Anant Agarwal, co-CEO at edX wrote in a blog post.
"These programs are a significant step towards making a key academic milestone — the Bachelor's degree — accessible and doing so in a way that positively impacts the members of our workforce most at risk to be displaced by automation and other changes in the workplace," he added.

In addition to WGU, NYU, ASU, TESU, edX is collaborating in its MicroBachelor program with organizations such as SunTrust Foundation (now Truist Foundation) and Walmart.org.
In this regard, the Truist Foundation announced yesterda that it has awarded a $1 million grant to edX to support the initiative.
"Our participation in the edX MicroBachelors Program Skills Advisory Council, a group bringing together the key stakeholders in this arena, is a fundamental part of creating these conversations,"  said Lynette Bell, President of the Truist Foundation.
edX plans to continue adding more MicroBachelor programs and new credit pathways that stack into full degree options with other university partners in the future.