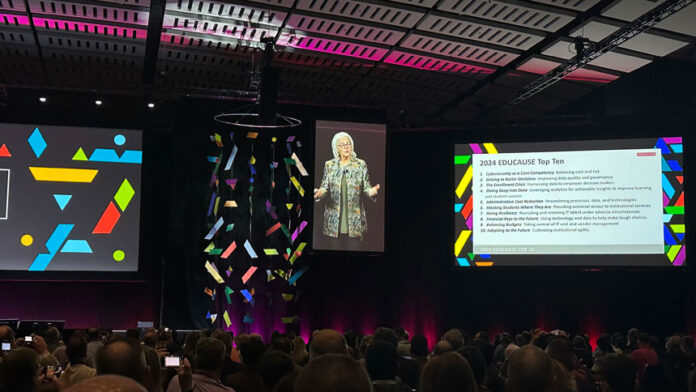 IBL News | Chicago
"Educational institutions must expand beyond growth and innovation to address risk and to prepare for what may be ahead," said Susan Grajek, Vice President of Partnerships, Communities, and Research at Educause, last week in Chicago during the association's annual conference.
Grajek presented, in a much-awaited session, the "2024 Educause Top 10" IT issues list, in the main auditorium of the McCormick Convention Center in Chicago, filled with thousands of educators, administrators, and IT managers who attended the three-day event.
Educause's annual list, a classic report, addresses how higher education IT leaders can contribute to their institution's overall success.
These are the 2024 Educause Top Ten Issues:
1. Cybersecurity as a Core Competency. Adopting a formal risk management framework can help institutions to balance cost, risk, and opportunity.
2. Driving to Better Decisions. Improving data quality and governance can help lead to more informed decision-making. Data is a strategic asset now.
3. The Enrollment Crisis. Data can empower decision-makers to determine course offerings, identify prospective students, or spot opportunities and tap into new markets.
4. Diving Deep into Data. Analytics can help institutions to harness actionable insights to improve learning and student success.
5. Administrative Cost Reduction. Streamlining processes, data, and technologies can lead to cost savings.
6. Meeting Students Where They Are. Providing students with universal access to institutional services can lead to better outcomes.
7. Hiring Resilience. Recruiting and retaining IT talent under adverse circumstances.
can help human resources leaders.
8. Financial Keys to the Future. Using technology and data to develop financial models and projections can help higher ed leaders make tough choices.
9. Balancing Budgets. Taking control of IT costs and vendor management can help institutions build strong relationships with solution providers and industry partners.
10. Adapting to the Future. Cultivating institutional agility means preparing for a range of possible future scenarios.
11. Honorary issue: AI Institutions have the need to develop an institutional approach.
"AI has the potential to help people skill up rapidly, including those who traditionally lacked access to effective educational opportunities and resources," Grajek said.
"AI can potentially help reduce administrative costs if applied to administrative processes, job descriptions, project charters, meeting summaries, and onboarding and training. Academic applications may include assessment reform, developing course materials for introductory level courses, and tutoring. We will almost certainly create more and more powerful use cases in the coming months and years."
AI buzz dominated the three-day conference, with one out of eight talks focused in this technology, as Inside Higher Ed reported.
• Resources and links: 2024 EDUCAUSE Top 10: Institutional Resilience