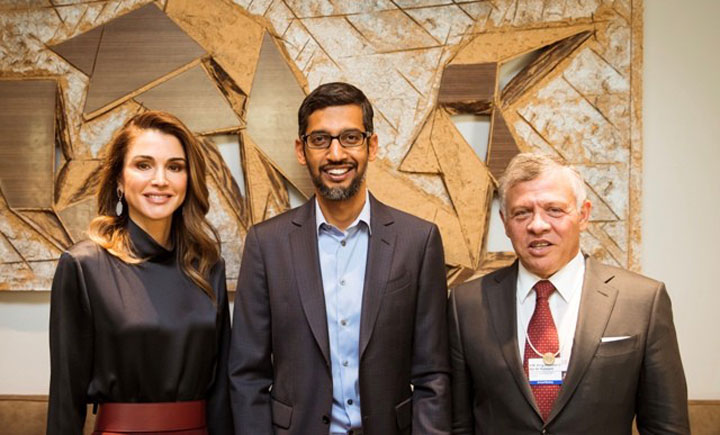 Edraak.org, the leading Arabic MOOC platform for adult learners, has expanded into K-12 by launching School Learning. This new vertical portal offers educational resources for school-aged children across the Arab world. These materials can be used in and out of the classroom, reinforcing the role teachers play.
Developed by Queen Rania Foundation and headquartered in Jordan, Edraak, a well-designed open education platform built on Open edX, has reached over 1.5 million learners across the Arab world since its launch in 2014, according to its CEO Shireen Yacoub.
Queen Rania Al Abdullah officially announced School Learning on January 24 during an event hosted by Google in Davos, Switzerland. King Abdullah II and Google CEO, Sundar Pichai, were also present. [Above in the picture]
The project was developed with the support of a $3 million grant from Google.org, and complemented with engagement from Google employees who provide product design expertise. School Learning was launched with Mathematics materials for grades 7 and 9, including more than 1,200 educational minutes of bite-sized video lectures. 
The e-curricula and learning resources for the rest of the grades will be released over two phases by the end of this year, and other major subjects will be gradually introduced by 2020. The platform will also offer tools and resources for parents and educators, empowering them to guide children's learning journeys.
The new platform offers sequential learning material as well as student-centred inquiry-based learning, making it possible for students to search for specific concepts without having to enroll in a predefined learning sequence. Given the growing need to support remedial education due to conflict and unrest that have disrupted formal education in the region, the platform adopts a competency-based approach to learning, while also providing material that can be used in a blended learning setting.
"A child denied an education isn't just a tragedy for that child; it leaves the rest of us vulnerable," Queen Rania Al Abdullah said." "Education is a solution capable of bringing hope and opportunity to the Middle East."
• IBL News (Feb 2018): Edraak.org Expands its Open edX Platform into K-12 with a Grant from Google
• IBL News (May 2014): Edraak.org, an Open edX platform aimed at Arab-speaking people