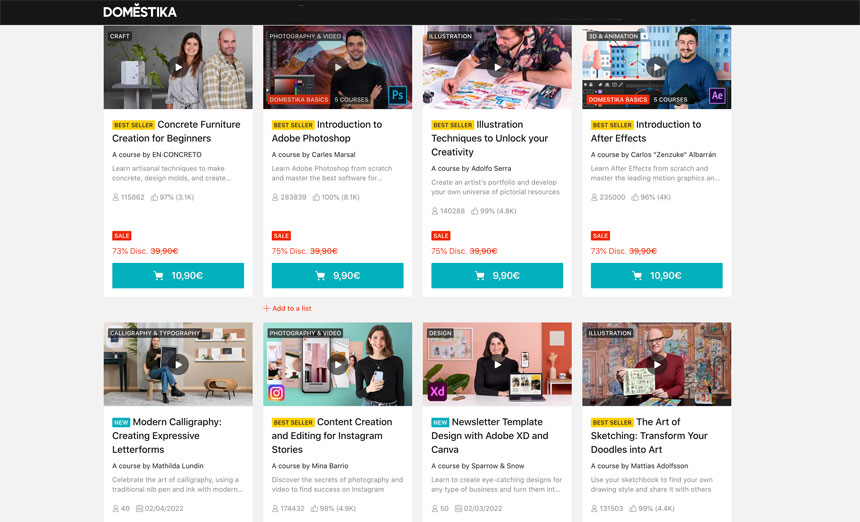 IBL News | New York
Learning platform and community Domestika reached unicorn status with a valuation of $1.3 billion after closing a round of a $110 million Series D. The financing was led by Zeev Ventures with additional investors, including GSV Ventures. According to the company's data, it hosts 8 million learners and over 1,300 teachers around the world.
Berkeley, California-based platform serves like-minded creative amateurs, hobbyists, and professionals. It offers over 2,000 courses taught by 1,300 professionals, covering topics from illustration and design to crafts and digital marketing.
All of the content is curated and produced in-house through its studios in 12 countries in Europe and the Americas, the company claims. Each of the courses is subtitled and translated into English, Spanish, Portuguese, German, Italian, French, Polish, and Dutch.
"Our community has grown from humble beginnings, as a small forum for creatives in Spain to over 8 million users around the world," said Julio G. Cotorruelo, Domestika's co-founder and CEO. "We plan to fuel this growth by expanding our offering in various languages and by continuing to bring the highest level of creative training in an accessible and affordable way."
"GSV Ventures is so proud to align with the team at Domestika, who prove every day that learning should be social, joyful, and beautiful," said Deborah Quazzo, Managing Partner at GSV Ventures.