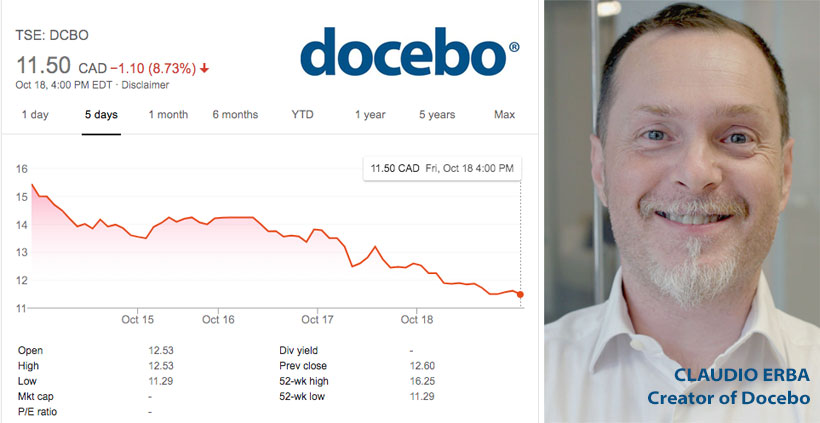 IBL News | New York
The cloud-based LMS company Docebo didn't show promising performance on its first trading days on the Toronto Stock Exchange.
The stock, listed under the ticker symbol "DCBO", started trading at C$16.00 (Canadian Dollars) on October 8 and closed at C$11.50 on Friday 18, losing over 28% of its value. [Update: on Monday 21, the stock gained 13% until C$ 13.04].
An imperfect balance sheet with weak fundamentals discouraged investors, according to some analysts.
Toronto-headquartered Docebo had raised high hopes after it successfully closed its IPO at a price of C$16, obtaining C$75 million.
A total of 4,687,500 common shares were sold, with Canaccord Genuity Corp. and TD Securities as the lead underwriters. Docebo's pre-IPO backers included Intercap Equity, and Canadian enterprise software equity firm Klass Capital.
"Completing this IPO is a significant milestone for Docebo and a testament to the talent and dedication of our team and support from our global base of customers," said during the offering, CEO Claudio Erba, an Italian computer consultant who founded the company on March 2005 in Florence, Italy. "With the proceeds raised, we will continue to strengthen our market position and look to continue our track record of innovation in the enterprise learning industry."
Written in PHP, Docebo (Latin for "I will teach") is focused on providing a SaaS learning platform to train workforces, partners, and customers worldwide. It claims to have a customer base of more than 1,600 companies in 68 countries.
We are pleased to welcome @Docebo to TSX! Founded in 2005, Docebo provides an easy-to use, highly configurable & affordable learning platform with the end-to-end capabilities & critical functionality needed to train internal and external workforces, partners and customers. $DCBO pic.twitter.com/cHTGfo6kKl

— Canada's Markets (@tsx_tsxv) October 8, 2019
Claudio Erba, CEO, Docebo at Learning Technologies 2019 from Learning News.