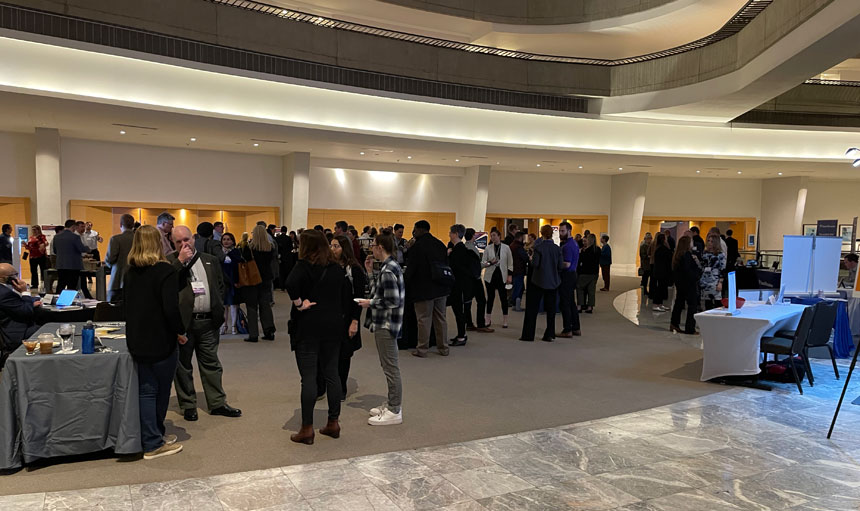 IBL News | New York
The number of digital credentials issued in 2021 saw a 67% growth, according to Accrediblle. Experts expect that this year will be an explosion of demand. The consensus is that the market for digital credentials platforms and products is on fire.
The Biden Administration's view is contributing to this increase. During his first State of the Union Address, President Biden supported skills-based hiring, stressing that "millions of Americans without a college degree are needlessly disadvantaged in the pursuit of good jobs, even when they have the skills and knowledge employers need."
The state of digital credentials is being analyzed this week in Atlanta, Georgia, through one of the first educational in-person conferences. The 2022 IMS Digital Credential Summit (Atlanta, Georgia, from February 28 to March 2) gathered tens of experts and leading players in the industry. [In the picture above, a snapshot of the reception offered yesterday at Atlanta's Marriot Marquis hotel].
This cross-sector event highlighted the increasing adoption of digital credentials, badges, comprehensive learner records, competency/skills/interest frameworks, and blockchain enabling technologies.
"Digital credentials can provide better ways to reward credit and link to opportunities than current paper transcripts, certificates, and resumes," said a representative of the IMS Global Consortium. It would affect all the sectors, such as higher education, K-12, business, philanthropy, corporate training, and workforce development organizations.
During a key talk titled "The State of the Digital Credentials Technology", moderated by Mark Leuba, Vice Presidency at IMS Global Learning Consortium, the five panelists agreed that "digital credentials offer a better way for learners and workers to own and control their achievements, their skills, and their future."
However, "patterns, policies, and practices are still forming, as are the products that support credential issuance, digital wallets, and talent discovery/selection."

— Susan Morrow, General Manager at Education Cloud in Salesforce, explained that the demand trend is clear. "LinkedIn is becoming the consumer's wallet," she added.
— Sean Carson, Senior Vice President and University Partnerships at Suitable, recommended educational and business organizations to design credentials following what employers are demanding.
— Dave Wengel, CEO at iDatafy SmartResume, stressed that "there is an opportunity to verify credentials."
— Marty Reed, CEO at Randa Solutions, advocated using open systems and breaking the tendency to siloing credentials while moving into a first mobile mentality.
"He will stress that millions of Americans without a college degree are needlessly disadvantaged in the pursuit of good jobs, even when they have the skills and knowledge employers need. To support skills-based hiring," #IMSsummit @LearningImpact https://t.co/Hg24K5sjxo

— Ryan Ivers, Ed.D. (@itsrivers) March 1, 2022
The IMS Digital Credentials Summit is the place to be as we learn and draw inspiration from the experts. Together we will bridge the gap between education and opportunity. #IMSsummit pic.twitter.com/1Jycpqeeda

— IMS Global Learning Consortium (@LearningImpact) February 28, 2022