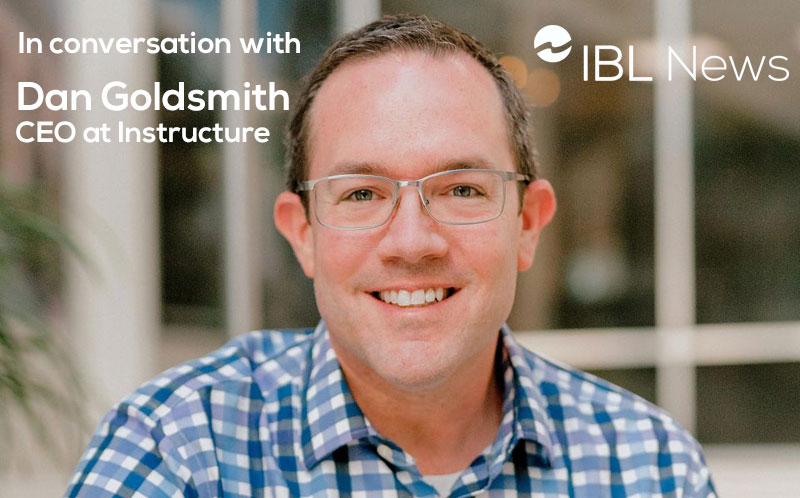 Mikel Amigot | IBL News
No one would believe that Dan Goldsmith, who runs Instructure, the maker of Canvas LMS and Bridge, is a Wall Street CEO.
His lack of arrogance, along with an understanding of the nuances of the educational industry, makes him unusual. "I know it sounds odd to have a good conversation with the CEOs of a competing business but at the end, we have a common mission and we all serve a similar space," Goldsmith said in a conversation with IBL News.
He translates the same philosophy to his management style. "We want to be a mission-minded company". "There is always pressure to take short cuts in business. A part of my job is resisting those practices. Following the right path takes 20 % more effort, but that is all right," he explains.
Another temptation he avoided during our conversation was talking about the preeminence of Canvas in the LMS market space. "We just want to make sure we inspire innovation and change."
Given Blackboard, D2L and Moodle's stagnant numbers regarding users and financials, as journalists, we pushed Goldsmith to reveal if he would take advantage of the situation and turn the calm path of Instructure into more aggressive behavior. While he did not disclose this information, he made clear that he is absolutely in charge. "We have strength and conviction in our mission and business plan."
"I'm not afraid to take the direction and ask for patience with the investment community." "I exhibited this in my last company, Veeva Systems, a cloud-based SaaS company."
Goldsmith was one of the first 50 employees at Veeva. He helped lead the company through a successful IPO and a growth path to a $10 billion market cap. Prior to Veeva, he worked in various executive positions at companies such as Accenture, PwC and IBM.
At Instructure, Goldsmith took the lead on January 2019 after 10 years of Josh Coates' role as CEO. His initial focus is on market growth, with the sales leaders reporting directly to him. Currently, Instructure has over 4,000 corporations and educational institutions in higher ed and K12 as customers and serves 30 million learners.
Opening a new phase of growth and achieving the company's profitability is the most impending challenge today.
Watch the full interview of Dan Goldsmith in the video below.