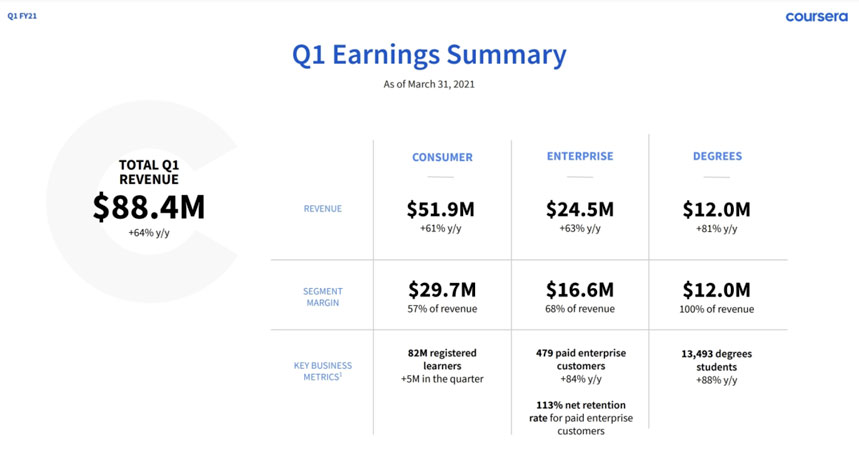 IBL News | New York
Coursera (NYSE: COUR), which became public on March 31st, dropped on Wednesday the 5th almost 8%, despite receiving analysts' support regarding the first-quarter report. Investors still consider that the educational company is overvalued. On Thursday, the stock suffered another significant decline of 7.21%, until $38.98.
The online learning platform announced a loss per share of 40 cents, compared to 45 cents a year earlier, with revenue of $88.4 million, versus $53.8 million for the same period in 2020, a growth of 64%.
Net loss was $18.7 million or 21.1% of revenue, compared to $14.3 million or 26.6% of revenue a year ago.
The company forecasted second-quarter revenue of $89 million to $93 million.
In its initial public offering, Coursera (ticker: COUR) sold 15.73 million shares at $33 each. The stock has since rallied about 36%. On Wednesday, shares were down to $42.
Josh Baer, from Morgan Stanley, wrote: "Coursera beat every estimate and metric we track in Q1, and we see positive estimate revisions ahead as the durability of growth and margin expansion is underestimated."
Analyst Sarang Vora, from Telsey Advisory Group, said: "We believe Coursera's consistent focus on growing its content catalog and member base, combined with enhancements to its technology platform, should continue to boost results in 2021 and beyond."
Coursera's CEO Jeff Maggioncalda was optimistic: "We believe the digital transformation of higher education is only in the early innings, and we see many opportunities to drive growth for Coursera in the years ahead."
"During the first quarter, we demonstrated our ability to scale all parts of our business with revenue growth of 64% year-on-year," said Ken Hahn, Coursera's CFO. "Our freemium model allows us to acquire learners at a low cost and meet their lifelong learning needs with a growing selection of premium, job-relevant content, and credentials."
Coursera disclosed other interesting data regarding its day-to-day operations:

The company added 5 million new registered learners during the quarter for a total of 82 million.
Enterprise revenue for the first quarter was $24.5 million, up 63% from a year ago. Paid Enterprise Customers increased 84% from a year ago to 479 businesses, governments, and campuses.
Degrees revenue for the first quarter was $12.0 million, up 81% from a year ago as prior cohorts scale and students begin newly launched programs. The total number of Degrees Students reached 13,493, up 88% from a year ago.
• Coursera: Coursera Reports First Quarter Fiscal 2021 Financial Results