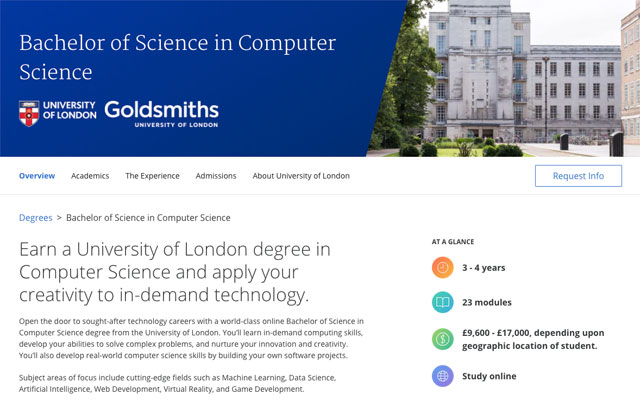 Coursera has announced its first fully online bachelor's degree, targeting both students who are pursuing their first degree as well as those who already have a Bachelor's. It is a 3-4 year Bachelor of Science in Computer Science, developed by the University of London. The program will cost approximately $13,300 to $23,500, depending on the student's geographic location.
Coursera plans to offer 20 online degrees by 2019, becoming a kind of OPM (Online Program Manager) who helps colleges build online degree programs.  "We are realizing that the vast reach of MOOCs makes them a powerful gateway to degrees," Coursera CEO Jeff Maggioncalda said.
With 30 million users, Coursera offers masters programs from institutions including HEC Paris, Arizona State University, Imperial College London, University of Michigan, and the University of Illinois at Urbana Champaign (this one priced at $22,000).
Meanwhile, edX.org offers, in collaboration with Georgia Tech, an online Master's in analytics, which costs $6,600.
• Coursera Blog: 6 New Degrees Coming to Coursera in Computer Science, Data Science, and Public Health