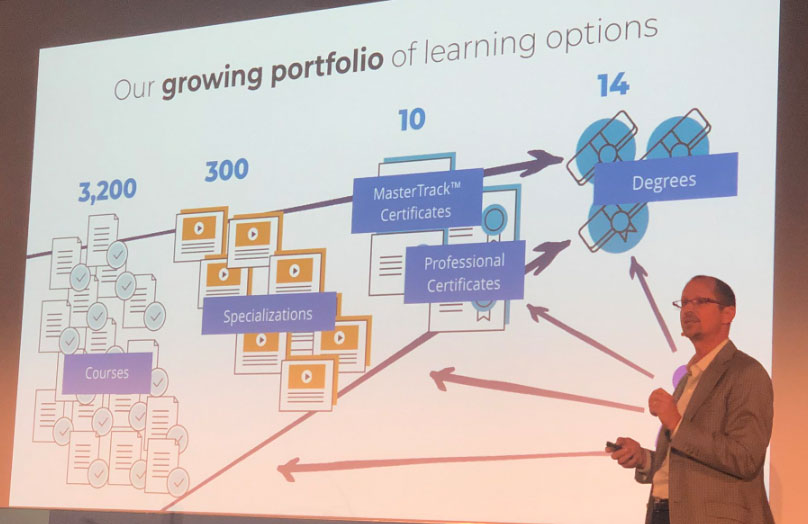 Coursera, the leading MOOC platform, announced during its 2019 Partners Conference in London the launch of two more online degrees, both from the University of Colorado Boulder: a Master of Science in Electrical Engineering (MS-EE) and a Master of Science in Data Science (MS-DS). This brings the total number of degrees announced on Coursera's platform to 14.
Admission to both degrees will be performance-based, and there will be no prerequisites or an application. Students will need to pass a series of courses and obtain stackable credentials. The pathway to enrollment for the MS-EE is expected to open in 2019.
Last week, Imperial College London announced a Master of Science in Machine Learning on Coursera. It will be one of the world's first online master's degrees in Machine Learning and Artificial Intelligence. [Research: Top Online Artificial Intelligence Courses and Programs].
"Degrees continue to be the most valuable credential for career and economic mobility. In an era of rapid change and evolving skills, degrees and credentials are key to career advancement. The Coursera platform has been able to provide access to top quality degrees at a highly affordable cost," said Jeff Maggioncalda, CEO of Coursera during the annual Conference (in the picture).
Coursera.org, which competes with edX, Udacity, and FutureLearn, works with 190 top universities and industry partners and has accumulated 40 million registered learners, according to its latest data. Its Coursera for Business division has reported the launch of 97 new courses in February and March of this year, including 13 courses in Arabic, 10 in Spanish, and 11 in Russian.
Here is a selection of tweets of the London Conference:
Interesting sessions at @coursera Partners conference this morning with themes of stackability, flexibility and meeting needs of different segments of learners #CourseraCon2019 pic.twitter.com/m2LZeknHA1

— Sukaina Walji (@sukainaw) April 2, 2019
Outstanding first day at the Coursera Partners Conference. Thank you for your leadership @coursera, the thoughtful keynote, sessions, nourishment and time to connect with colleagues #CourseraCon2019! pic.twitter.com/DGzmJeiOJ3

— Yvonne D. Harrison (@profharrison) April 3, 2019
Wrapping up another @Coursera Partners Conference! I remain super grateful to our incredible partners for creating amazing courses for everyone. Also fun to see AI applications to edu are accelerating. Lively debates about AI autograders, analytics & more! #CourseraCon2019 pic.twitter.com/d7rkYIoTqz

— Andrew Ng (@AndrewYNg) April 4, 2019
Very Inspiring keynote from Thomas Friedman ⁦⁩this morning at the Coursera Partners Conference at ⁦University of London.
So…Are you ready to be a lifelong learner? #keeplearning #selfmotivationdivide ⁦@AXA⁩ ⁦@coursera⁩ pic.twitter.com/UbaJcdkGik

— Stéphanie Ricci (@StephanieRicci_) April 2, 2019
Is the new social contract between employers and employees: "you can be a lifetime employee as long as you are a lifelong learner?" – @tomfriedman suggests this is coming to a neighborhood near you. #CourseraCon2019 pic.twitter.com/V6AR50sehW

— James DeVaney (@DeVaneyGoBlue) April 2, 2019
More photos of our team in action at #CourseraCon2019 in London, including a guest appearance from @drchuck! pic.twitter.com/QtjT5jdsX7

— Academic Innovation – University of Michigan (@UMichiganAI) April 3, 2019
Reunión almuerzo de Coursera Iberoamérica. #UNAM #Tec #Uniandes #UAustral #IESE #IE #UAB #ORT pic.twitter.com/rMUaXjpS6o

— Luz Montero (@luzemontero) April 3, 2019