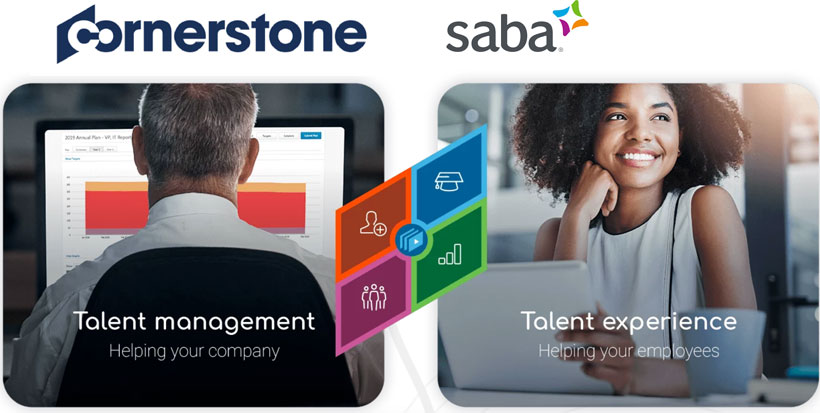 IBL News | New York
Cornerstone OnDemand (NASDAQ: CSOD), a provider of talent management and professional development software, said it agreed to acquire Saba, which develops similar products and services, in a cash and stock deal valued at nearly $1.4 billion.
"The combined company will have more than 75 million users and serve approximately 7,000 organizations, of all sizes, around the globe," said the company in a statement on Monday.
Founded in 1997, Saba went public in 2000. In 2015, it was acquired by private equity firm Vector Capital for $300 million. With 1,400 employees, Saba was serving over 4,600 corporate clients.
This acquisition of Saba marks the second acquisition this year for Cornerstone OnDemand, which purchased the French skill development platform Clustree in January for $18.5 million in cash.
Cornerstone's shares didn't lately perform well. The stock lost 32% in the past year, and performance has been even worse within this past week, with 33.2% down. After Cornerstone's quarterly earnings conference call and the announcement of the deal, the loss has been 28.4%. The capitalization of the company is $3.55 billion.
On a conference call with analysts, Adam Miller, CEO of Cornerstone, said:
"We believe this transaction enables us to build a sustainable business for the long term. We have a shared passion for people development and will help thousands of organizations and millions of people around the world to overcome the skills divide. To provide a sense of the reach of this combination, a 2019 pro forma entity would have delivered nearly $820 million of ARR and $775 million in subscription revenue. When we first began to evaluate this transaction, we recognize that the time was right to do this deal. The talent management industry has rapidly evolved over the last several years. And as we look ahead to the next wave of industry innovation and took stock of the share size of our global market opportunity, we saw the acquisition of Saba is an excellent way to position Cornerstone for the long-term growth and innovation."
Cornerstone separately reported fourth-quarter revenue of $149.6 million, up 8.2% from a year ago. Most of that revenue was subscription-based. Net income for the fourth quarter was $9.4 million, or 15 cents a share.
For 2019, Cornerstone reported revenue of $576.5 million, up 8.5%, with a net loss of $4.1 million, or 7 cents a share.