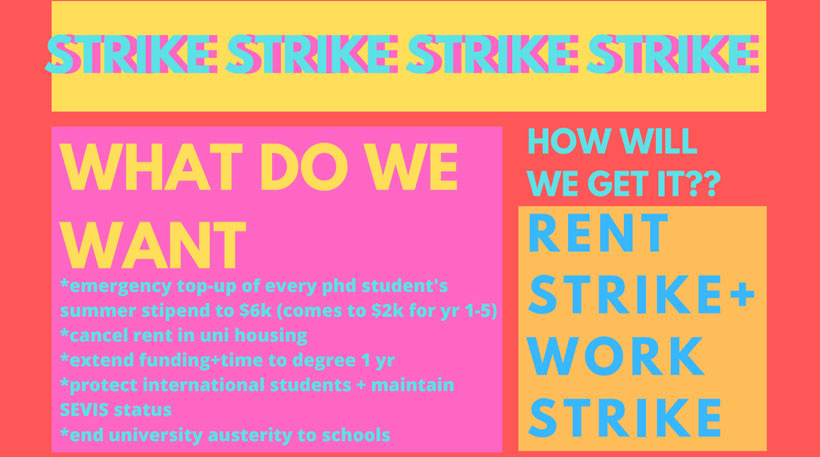 IBL News | New York
Hundreds of Columbia University's TAs (Teaching Assistants) say that they won't teach and grade until the institution offers them financial relief.
They demand $6,000 for every grad worker this summer, cancel rent in university apartment housing, and extension of funding and time to degree, among other requests.
In a letter to the university, the group called Columbia Graduate Workers on Strike, complains about their "extreme financial and housing precarity in a pandemic," and reminds:
"Columbia is a wealthy institution that has wrongly partitioned its budget. Even by the logic that the university simply cannot use its endowment directly to these ends, Columbia should take advantage of its endowment to use as collateral to borrow at nearly 0 percent interest rates in order to address the needs of its workers in this crisis."
Columbia's graduate students' financial struggle is similar to other private campuses.
Columbia has a graduate workers' union affiliated with the United Auto Workers. The union called a strike in 2018 after the university refused to negotiate a first contract, arguing that graduate students are not laborers entitled to collective bargaining.
The institution recently said that it would provide summer relief of up to $3,000 per graduate student that are on nine-month contracts.
Columbia University has a $10 billion endowment and is one of New York City's biggest landowners.
Hundreds of Columbia graduate workers are on strike to end university austerity. Demands: 1. $6k for every grad worker for the summer 2. Cancel rent in university housing. 3. Extend funding+time to degree by 1 yr. 4. Protect international students. See our letter to the admin. pic.twitter.com/VVh8ew8HfW

— Columbia Work Strike/ Rent Strike (@columbiastrike) April 26, 2020