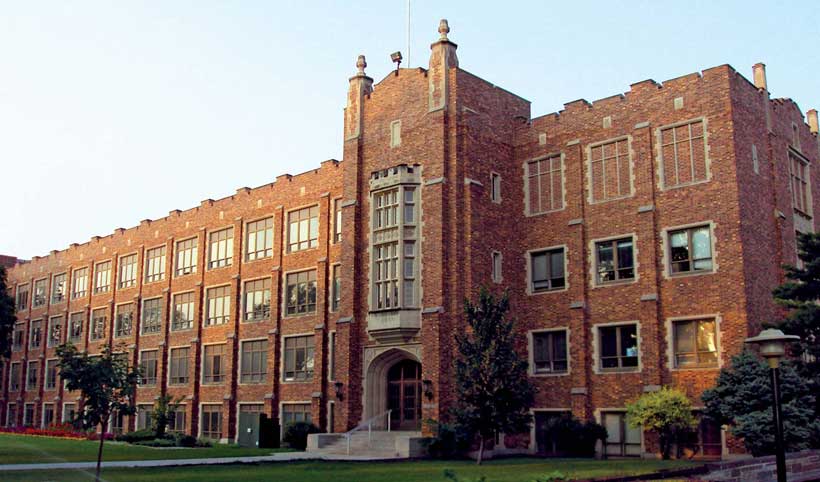 IBL News | New York
Universities and college leaders are deciding this month whether or not to reopen campuses for the fall semester.
The Chronicle of Higher Education is updating a list of colleges with their plans to reopen their institutions, as well as inviting institutions to communicate their decisions. Inside of Higher Ed also wrote a report with details.
The latest addition includes the university systems of Alabama, Georgia, and North Dakota.
One of the most adopted approaches points to reopening, although being "prepared for a scenario in which much or all learning will be conducted remotely," as noted by Harvard University's Provost.
Other institutions such as Stanford University says that "it expects to make a decision in May, but might delay fall quarter till winter."
Most universities are either sticking their head in the sand and planning for a normal on-campus/face-to-face Fall semester, or are kicking the can down the road and saying they will decide in May, June, or even July https://t.co/bt4pvrfUFW

— Lorena Barba (@LorenaABarba) April 28, 2020
This is the Chronicle's List (updated on April 29):
| Institution | Control | State | Plan |
| --- | --- | --- | --- |
| American University | Private | DC | "preparing for a return to campus for classes and activities in the fall" |
| Amherst College | Private | MA | hopes to decide by June |
| Baylor University | Private | TX | "We intend to safely resume in-person teaching, learning and residential life for the fall 2020 semester." |
| Beloit College | Private | WI | shifting to a "module based semester" to allow flexibility to move toward either online or in-person classes |
| Boston University | Private | MA | leaning toward in-person classes |
| Brown University | Private | RI | The university is leaning toward in-person classes. Brown's president, Christina Paxson, wrote an op-ed in The New York Times that called the reopening of college campuses a "national priority" and that proposed strict virus testing and tracing protocols to ensure safety. |
| California Baptist University | Private | CA | "planning to resume on-ground classes for the fall semester" |
| California State University at Fullerton | Public | CA | "Our goal is face-to-face, on-campus instruction," but faculty are being asked to prepare to start the fall semester teaching online. |
| Central Christian College of the Bible | Private | MO | plans to open campus in the fall but use online instruction if necessary |
| Centre College | Private | KY | block-scheduling courses in shorter segments to allow flexibility to shift toward either in-person or remote learning |
| Chapman University | Private | CA | optimistically planning for a safe return in the fall with social distancing and safety constraints in place" |
| Christopher Newport University | Public | VA | "We are planning for our classes to resume on campus in the fall" depending on the state of coronavirus and guidance from state and federal authorities. |
| Claremont Colleges | Private | CA | "Committed" to in-person fall classes, but no final decision expected till July 1 |
| Clemson University | Public | SC | exploring a range of scenarios, from in-person classes to entirely online |
| Cornell University | Private | NY | no decision expected until June |
| Dartmouth College | Private | NH | "The probability of a full residential, business-as-usual fall term is not very high," the provost says. |
| Drury University | Private | MO | planning to reopen in the fall |
| East Carolina University | Public | NC | "We intend to be back on ECU's campus in the fall, although we will do so while taking the necessary precautions." |
| East Tennessee State University | Public | TN | hopes to make a decision by early June |
| Elon University | Private | NC | "Elon is planning to conduct fall semester classes on campus," but that could change "depending on the ongoing threat." |
Emory University
Private
GA
likely to decide by early May, according to the student newspaper
Furman University
Private
SC
will announce plans by mid to late June
George Fox University
Public
OR
plans to open campus in the fall
George Mason University
Private
VA
says more information could come by early June
George Washington University
Private
DC
will provide "a more detailed communication about our plans for operation by May 15"
Gonzaga University
Private
WA
"will work with the goal of returning to operations and re-opening our campus – including resuming in-class instruction – for fall semester 2020"
Harvard University
Private
MA
Will be open, but the provost says "we will need to prepare for a scenario in which much or all learning will be conducted remotely."
Haverford College
Private
PA
"We expect on-campus learning to resume for the fall semester."
Iowa Board of Regents
Public
IA
planning "a full normal operation" for its universities, including the Iowa State University, the University of Iowa, and the University of Northern Iowa; "in person classes, reopening of residence halls" in the fall
James Madison University
Public
VA
"We are expecting to open as scheduled for in-person classes."
Longwood University
Public
VA
exploring how it can "safely reopen for in-person learning in the upcoming fall semester"
Loyola Marymount University
Private
CA
planning for an in-person fall semester
Macalester College
Private
MN
Our strong preference is to complete two full semesters of on-campus instruction, but says academic calendar may be tweaked and — only if necessary — instruction could be online
Marquette University
Private
WI
will resume campus operations this fall if governmental and medical authorities say it is safe to do so"
Marshall University
Public
WV
The university "has begun tentative plans to have in-person classes for the fall 2020 semester."
Merrimack College
Private
MA
planning to be "residential and open in the fall"
Midwestern State University
Public
TX
intends to be "fully operational this fall for in-person instruction"
Montana State University
Public
MT
planning for the return of students in the fall, subject to guidance from a task force
New York University
Private
NY
"proceeding on the basis that it will resume in-person operations" in the fall
Nicholls State University
Public
LA
North Carolina State University
Public
NC
"We fully expect to have our new and continuing students on campus for the fall semester."
North Dakota University system
Public
ND
intends to have students back on its 11 campuses in the fall, including North Dakota State University and the University of North Dakota
Northern Illinois University
Public
IL
Hopes to announce fall plans within the next two months
Oakland University
Public
MI
"a hybrid approach" that includes both face-to-face and remote instruction" in the fall
Ohio State University
Public
OH
leaning toward in-person classes, with a final decision by late June
Pace University
Private
NY
"It is our hope and intention to resume our regular schedule of face-to-face classes across all three of our campuses for Fall 2020," the provost wrote. "But ultimately that decision will not be ours to make."
Purdue University
Public
IN
planning to start fall semester in person if testing and contact tracing allows
Radford University
Public
VA
will reopen on August 3, with face-to-face instruction beginning on August 24
Randolph College
Private
VA
planning to resume on-campus, residential operations
Rhodes College
Private
TN
will share plans by May 27
Saint Francis University
Private
PA
Intends to return students to campus in the fall
San Jose State University
Public
CA
planning to offer online and hybrid courses
Seton Hall University
Private
NJ
"We have a team in place finalizing plans for our collective return to campus in the fall," but contingency plans are being made "to ensure we are prepared should the science or government guidance delay a return or require modified approaches."
Shenandoah University
Private
VA
plans to make a decision by around July 1
Southern New Hampshire University
Private
NH
planning to allow students to move into dorms, and is offering full tuition scholarships to incoming freshmen
Stanford University
Private
CA
expects to make a decision in May, but might delay fall quarter till winter
Stetson University
Private
FL
planning for in-person classes but will make a decision by mid to late June
Syracuse University
Private
NY
developing "multiple fall opening scenarios" with the "hope and intention that we will be welcoming students back to campus"
Texas Tech University
Public
TX
Plans to resume in-person instruction in the fall with a "phased return"
Tulane University
Private
LA
No guarantees, but "we very much hope to hold face-to-face, on-ground classes in fall 2020."
University of Alabama system
Public
AL
"We are expecting to have a fall semester at all of our universities," the president said."We understand that things could happen that make it impossible, but that's what we are planning for at this time."
University of Arizona
Public
AZ
planning to hold in-person classes
University of Arkansas at Fayetteville
Public
AR
plans to announce around June 1
University of California at Berkeley
Public
CA
Some or all classes will be delivered via remote instruction.
University of California at San Diego
Public
CA
intends to offer a combination of in-person and remote instruction
University of Central Florida
Public
FL
leaning toward in-person classes
University of Chicago
Private
IL
plans to decide by the end of June
University of Colorado at Boulder
Public
CO
leaning toward a hybrid plan; will announce by June
University of Connecticut
Public
CT
no decision till summer
University of Delaware
Public
DE
"We remain cautiously optimistic that we will be in a position to welcome all students on campus this fall."
University of Denver
Private
CO
"We plan to reopen with face-to-face classes when we begin our fall quarter in mid-September, as long as we can do so safely and responsibly. … We will make a final decision no later than July 15."
University of Georgia system
Public
GA
The university plans a "phased, gradual reopening" in the summer and will resume in-person instruction during the fall 2020 semester.
University of Illinois at Urbana-Champaign
Public
IL
"We are planning for in-person classes to begin as scheduled."
University of Maine system
Public
ME
planning for in-person classes
University of Mary Washington
Public
VA
intends to start in-person instruction in August but says "we should also be prepared for the unknown"
University of Maryland system
Public
MD
planning to start in-person, but some larger classes may be online
University of Miami
Public
FL
"Our expectation is to begin our fall semester on time and on campus, so long as we can do so safely"
University of Michigan
Public
MI
hoping to hold classes in-person
University of Nebraska system
Public
NE
The system "expects to hold classes on its campuses in the fall." The chancellor of the flagship University of Nebraska at Lincoln wrote in a letter on April 24, "UNL will be open in the fall for in-person instruction."
University of New Haven
Private
CT
intends to bring students back to campus in August, but is also "exploring academic contingencies for a variety of scenarios"
University of North Carolina at Chapel Hill
Public
NC
optimistic for on-campus classes this fall, but still considering a variety of options
University of North Carolina at Pembroke
Public
NC
"We fully expect and it is our present intention to be back in our classrooms, labs, and offices this fall."
University of Oklahoma
Public
OK
"Our intention is to return to in-person educational operations on all three campuses by this fall, offering traditional instruction and residential life."
University of Oregon
Public
OR
The university is aiming for in-person instruction in the fall, but the president says "it is unlikely that our fall quarter will look just like last fall."
University of Pennsylvania
Private
PA
"planning for a likely combination of in-class and virtual teaching."
University of Pittsburgh
Public
PA
says "back to normal probably is not likely" for the fall
University of Portland
Private
OR
The university's goal is to operate in-person, but the president said it may adjust the academic calendar and "conduct some or all of our instruction in an online format if absolutely necessary."
University of Southern California
Public
CA
hopes to announce fall plans within the next two months
University of South Carolina
Public
SC
decision expected by June 15
University of Puget Sound
Private
WA
"We plan to welcome new and returning students to campus in the fall and resume in-person courses … while adhering to public health guidelines."
University of Tennessee at Knoxville
Public
TN
eyeing three scenarios: in-person instruction, a fully online semester, or a hybrid of the two
University of Texas at Austin
Public
TX
decision expected by the end of June
University of Vermont
Public
VT
"Based on information currently available, I am confident UVM will be able to return to in-person status in fall 2020," the president said.
University of Virginia
Public
VA
plans an update on fall plans by mid June
University of Wisconsin-Madison
Public
WI
decision by the end of July, currently considering face-to-face, entire online, and hybrid models
Utah System of Higher Education
Public
UT
intends to resume in-person classes in the fall
Virginia Commonwealth University
Public
VA
"We have every intention of opening our fall semester in-person as long as it is safe to do so."
| | | | |
| --- | --- | --- | --- |
| Wake Forest University | Private | NC | "We plan to conduct fall semester classes on campus." |
| Washington State University | Public | WA | planning for in-person classes |
| Wayne State University | Public | MI | leaning toward starting fall classes online |
| West Virginia University | Public | WV | exploring a range of scenarios, from in-person to entirely online |
| Wheaton College (Mass.) | Private | MA | "We have affirmed our intention to deliver an on-campus fall semester" subject to the guidance of public-health experts. |
| Whitworth University | Private | WA | plans to reopen the campus and resume in-person classes |
| William Jewell College | Private | MO | intends to open for fall semester |
| Williams College | Private | MA | plans to announce by July 1 |
| Yale University | Private | CT | decision expected by early July |