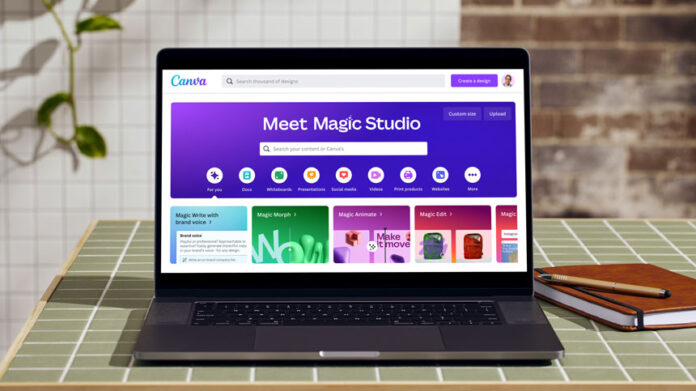 IBL News | New York
Australian web-based design platform Canva unveiled this week a suite of AI tools named Magic Studio to take on competitors including Adobe Inc.
With 16 million paying subscribers and 150 million users worldwide, Canva
rolled out the new AI and marketer tools this March.
These new tools use a mix of Canva's in-house AI as well as that of partners such as Google and OpenAI.
"A decade ago, Canva set out to empower the world to design by simplifying a complex and fragmented design ecosystem. As we go into the next decade of our journey, we're incredibly excited to be taking a massive leap forward with the launch of Magic Studio – the first all-in-one suite of design AI tools created to supercharge the way teams create and scale visual content," said Melanie Perkins, co-founder, and CEO of Canva.
"Magic Studio can generate compelling content, fast-track first drafts, automate mundane tasks, design like an expert, massively accelerate the creation process, and much more," she added.
Canva explained that Magic Studio includes these features:
Magic Switch: An industry-first offering that instantly converts designs into a range of formats with one click. Turn a presentation into an executive summary or create a blog post from a whiteboard of ideas, plus, translate it into various languages in the process.
Magic Media (text-to-image and text-to-video functionality): Turn text into engaging photos and, with its latest update, explore a wide range of new style options for any result. Or, create compelling videos from an image or text using Gen-2, a video generation AI model by Runway.
Magic Design: Turn a prompt or your own media into captivating and fully designed videos, presentations, and more. Speed up the creation process by simply entering your idea, selecting color schemes, and watching complete designs come to life ready to be shared or further customized to your liking.
Brand Voice: Canva's Magic Write copywriting assistant has been supercharged with brand voice. It's easier than ever to write in your brand's tone of voice in any design or document. Simply add guidelines to your Brand Kit to generate on-brand content every time.
Magic Morph: Turn your design from ordinary to extraordinary by instantly transforming words and shapes into new colors, textures, patterns, and styles with a simple prompt.
Magic Grab: A whole new way to reimagine your images. Magic Grab can select and separate any subject in your photo so that you can edit, reposition, or resize it.
Magic Expand: Perfect photos after they've been taken. Magic Expand can save zoomed-in images or turn a vertical shot horizontal by recovering whatever's outside the frame.
AI Apps on Canva: The Canva Apps Marketplace puts the best AI-powered design and productivity tools on the market all in one place, with world-leading AI apps recently added including Dall-E, Imagen by Google Cloud, MurfAI, Soundraw and more.
Canva also announced a $200 million commitment in content and AI royalties to be paid to its creator community over the next three years when they consent to have their content used to train the company's proprietary AI models.