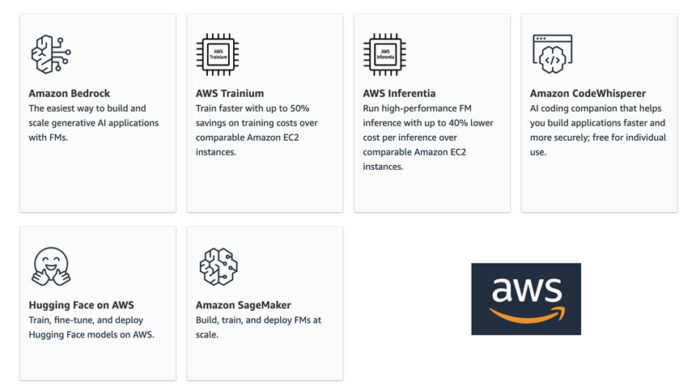 IBL News | New York
Trying to avoid being left behind in the generative AI race, Amazon Web Services, Inc. (AWS) announced this month it will put $100 million in a new program to connect affiliated data scientists, strategists, engineers, and solutions architects with customers and partners to accelerate enterprise adoption an innovation.
The program, called AWS Generative AI Innovation Center, will include free workshops, engagements, and training. Use cases, best practices, and industry expertise will be part of the initiative.
"With over 100,000 clients having used AWS AI and ML services, now, customers around the globe are hungry for guidance about how to get started quickly and securely with generative AI," said Matt Garman, Senior Vice President of Sales, Marketing, and Global Services at AWS.
According to AWS, healthcare and life sciences companies can pursue ways to accelerate drug research and discovery: manufacturers can build solutions to reinvent industrial design and processes; and financial services companies can develop ways to provide customers with more personalized information and advice.
AWS offers several generative AI services, such as Amazon CodeWhisperer, an AI-powered coding companion, and Amazon Bedrock, a fully managed service that makes foundational models (FMs) from AI21 Labs, Anthropic, and Stability AI, along with Amazon's own family of FMs, Amazon Titan, accessible via an API.
Users can also train and run their models using high-performance infrastructure, including AWS Inferentia-powered Amazon EC2 Inf1 Instances, AWS Trainium-powered Amazon EC2 Trn1 Instances, and Amazon EC2 P5 instances powered by NVIDIA H100 Tensor Core GPUs.
Additionally, customers can build, train, and deploy their own models with Amazon SageMaker or use Amazon SageMaker Jumpstart to deploy some of today's most popular FMs, including Cohere's large language models, Technology Innovation Institute's Falcon 40B, and Hugging Face's BLOOM.
On April, AWS launched a 10-week program for generative AI startups and debuted Bedrock, a platform to build generative AI-powered apps via pretrained third – and first-party models. AWS also recently announced that it would work with Nvidia to build "next-generation" infrastructure for training AI models — complementing its in-house Trainium hardware.
Grand View Research estimates that generative AI products and solutions could be worth close to $110 billion by 2030.
Salesforce Ventures, Salesforce's VC division, plans to pour $500 million into startups developing generative AI technologies. Workday recently added $250 million to its existing VC fund specifically to back AI and machine learning startups. OpenAI, the company behind the viral chatbot ChatGPT, has raised a $175 million fund to invest in AI startups. And just this week, Dropbox launched a $50 million AI-focused venture fund.
Accenture and PwC, meanwhile, have announced that they plan to invest $3 billion and $1 billion, respectively, in AI.
According to GlobalData, AI startups received over $52 billion in funding across more than 3,300 deals in the last year alone.