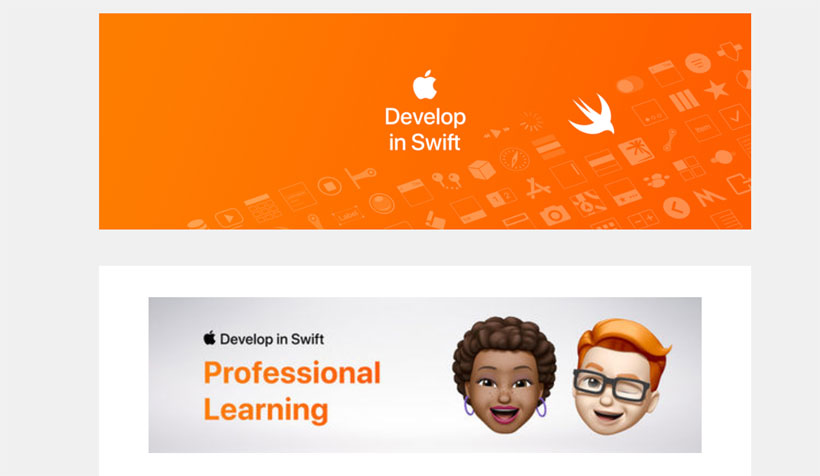 IBL News | New York
Apple started this month to offer a free, redesigned online training program to educators who teach both app development languages Swift and Xcode.
The new Develop curriculum, geared toward high school and higher education students, includes four books, available in Apple Books: "Develop in Swift Explorations," "Develop in Swift AP CS Principles," "Develop in Swift Fundamentals," and "Develop in Swift Data Collections." The LMS used is Canvas from Instructure.
For learners grades 4 through 8, Apple's "Everyone Can Code" curriculum uses puzzles and games to teach the building blocks of coding in Swift – the open-source programming language designed by Apple. The company added a set of remote learning resources including  "A Quick Start to Code" with 10 coding challenges on iPad or Mac.
Also, the Learning from Home website, launched this spring, offers resources such as on-demand videos and virtual conferences on remote learning, and options to schedule free one-on-one virtual coaching sessions, hosted by educators at Apple. New videos are being added as part of the Apple Education Learning Series.
Apple announced its intention is to supplement the need for computer science instructors in the U.S., due to a teacher shortage.
The Computer Science Teachers Association claims that fewer than 50% of all American high schools are able to get into the computer science courses.
In addition, the courses are also being offered to parents interested in becoming homeschool teachers.
"Apple has worked alongside educators for 40 years, and we're especially proud to see how Develop in Swift and Everyone Can Code have been instrumental in helping teachers and students make an impact in their communities," said Susan Prescott, Apple's vice president of Markets, Apps and Services.
BIG NEWS: Educators and students can NOW learn Swift directly from @Apple experts through Canvas LMS: https://t.co/nP3xzWq7su @AppleEDU

— Canvas LMS (@CanvasLMS) July 13, 2020