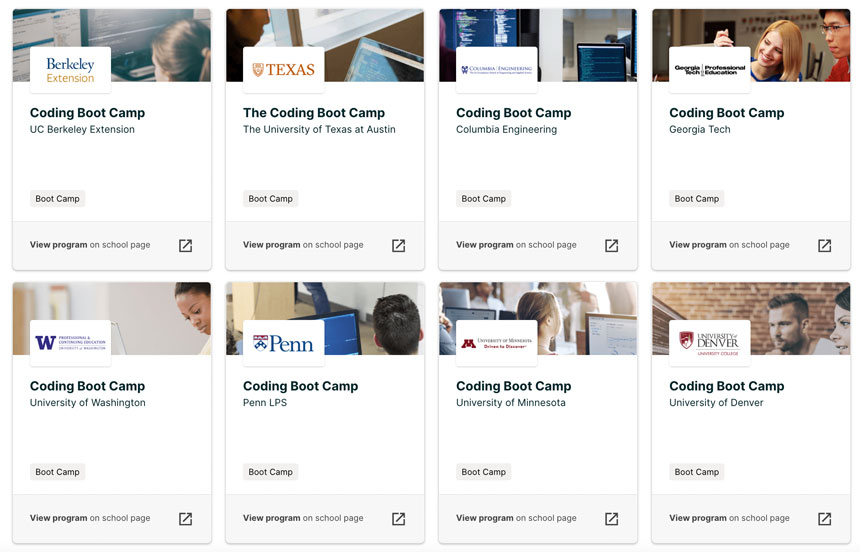 IBL News | New York
2U, Inc. (NASDAQ: TWOU) announced yesterday the launch of 200 Online Boot Camps under the edX brand on its website, retiring the "Trilogy Education Services" name.
This offering, developed by 50 edX partner universities, will start at the beginning of 2023. It will target 10,000 students annually in high-demand technology fields such as web development, data analytics, UX/UI, cybersecurity, fintech, digital marketing, and project management.
All Boot Camps will be fully online and include live, virtual classroom sessions led by university-vetted instructors. These programs are part-time (18-24 weeks) and designed for working adults and professionals with a need for a flexible schedule who are ready to invest 20+ hours outside of class for self-study and projects.
2U/edX also features full-time (12-week) Boot Camps, with classes Monday through Friday, for those seeking a more accelerated learning experience.
The 2U company started to deliver Boot Camp programs in 2016. Since then, have graduated from these intensive technology training programs, with 31% not having a bachelor's degree. About 6,700 companies have hired program graduates, including Google, Target, State Farm, H&R Block, Infosys, and others, according to 2U.
Institutions like the University of Central Florida, University of Denver, University of Oregon, University of Utah Professional Education, Tulsa Community College, and the UK's University of Birmingham have established partnerships to connect Boot Camp programs with local workforce agencies and corporate, nonprofit, and government funders.
Struggling Company
The 2U initiative comes at a very complicated moment for the company, dominated by layoffs and a deep declining stock value, with a loss of over 70.43% in the last year. Its market capitalization has fallen to 479 million, almost half of what it paid for edX in 2021.
The Harvard Crimson, owned by Harvard University — who, along with MIT, sold edX to 2U — published a story highlighting the stock plummeting of 2U since the purchase.
"In its nine years under Harvard and MIT, edX — founded to make premiere college courses accessible to digital learners everywhere — grew to include more than 3,000 courses, with 39 million participants around the globe. But in the period since the sale was announced, the education technology firm that bought edX for $800 million, 2U Inc., has seen the price of its shares plummet by more than 86 percent and cut 20 percent of its budgeted personnel costs."
Anant Agarwal, founder of edX and now a 2U employee, said to The Harvard Crimson that "2U is in a strong financial position," citing the company's projection from July that it will make approximately $110 million in profits by the end of this fiscal year.
"2U made a legally binding commitment to preserve and advance edX's founding mission" when it acquired the nonprofit, Agarwal wrote, including continuing the free track to audit courses, protecting data privacy for individual edX users, and safeguarding the intellectual property rights of faculty and schools.
The company's competitors have also struggled over the past year. Coursera, which went public in the spring of 2021, has seen its stock price drop almost 71% since June 2021. Shares of Udacity fell 50%.
Since the acquisition, more than 5 million users have joined edX, according to Agarwal, who noted that the company has added many new course offerings.