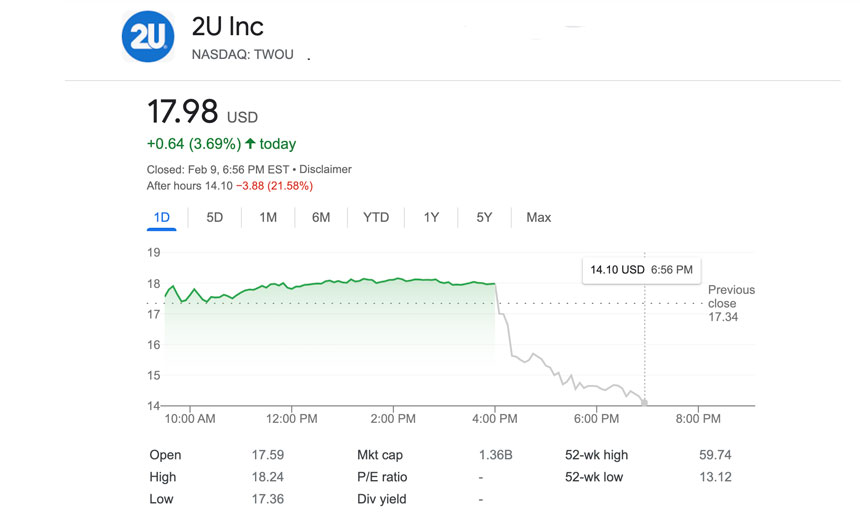 IBL News | New York
2U Inc. (NASDAQ: TWOU) — the owner of edX.org — on Wednesday reported a loss of $67.3 million in its fourth quarter of 2021, after an increase of $29.6 million on the same period in 2020.
In the same time frame, revenue increased 13% to $243.6 million. Degree program segment revenue increased 17% to $152.4 million. And alternative credential segment revenue increased 8% to $91.2 million.
Wall Street received these results well, and 2U's stock went up 3.69% yesterday, until $17.98 per share. Overall, the stock lost 70% of its value in the last year. Market capitalization is only 1.36 billion.
For the full year of 2021, the Lanham, Maryland – based company reported a loss of $194.8 million, or $2.61 per share, with an improvement of $21.7 million. Revenue was reported as $945.7 million, increasing of 22%.
In terms of the outlook for 2022, 2U expects full-year revenue in the range of $1.05 billion to $1.09 billion, representing a growth of 13% at the midpoint. Net loss will range from $235 million to $215 million.
Christopher "Chip" Paucek, 2U's Co-Founder and Chief Executive Officer, provided this view: "Our strong 2021 results were led by healthy revenue growth in both our degree and alternative credential business, with demand for our undergraduate offerings particularly compelling."
"With the closing of the edX transaction in November 2021, we are laser-focused on transforming 2U into the leading global education platform company, positioned to drive powerful societal impact and superior value for all our stakeholders, by delivering learners affordable, flexible, and career-relevant online education offerings, while helping universities and businesses strengthen their institutions for the digital age."
Paul Lalljie, 2U's Chief Financial Officer, added, "with the addition of edX and our transition to a platform company, we have established a strategic and financial framework for achieving our mid-term goals and creating shareholder value."