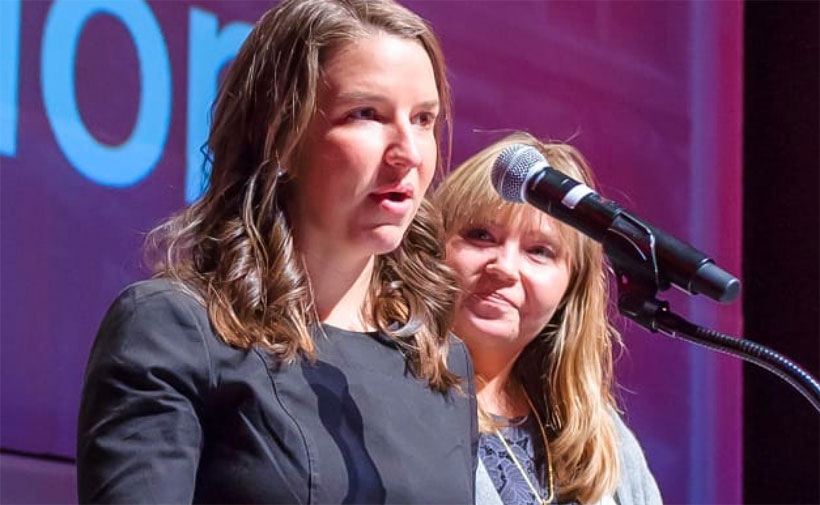 IBL News | New York 
Denver-based, female-led startup Guild Education yesterday announced the close of a $157 million Series D round, becoming the newest edtech unicorn, with a post-money valuation north of $1 billion.
The funding round was led by former American Express, CEO Ken Chenault, through the VC firm General Catalyst and was joined by Laurene Powell Jobs' Emerson Collective, Iconiq Capital and Lead Edge Capital.
Founded in 2015 by Stanford University graduates Rachel Carlson and Brittany Stich [in the picture above], Guild connects Fortune 1000 companies to 1,6000 online programs offered by nearly a dozen universities—among them, the University of Arizona, Purdue Global, Southern New Hampshire University and the University of Central Florida.
Universities typically spend between $4,000-$6,000 (mostly on buying ads on Google and Facebook) to acquire a Bachelor's student and up to $14,000 for a Masters's degree student. Guild Education gets paid out of the savings universities make on student recruitment services.
The company also has a team of advisors and support specialists to help students plan, apply for, and finish their programs.
One of Guild's major deals was with Chiplote, which now covers the college tuition for employees. Discover Financial, Taco Bell, Walmart, Lowe's and Walt Disney Co. are customers, too.
Guild competes with InStride and Pearson is this space.